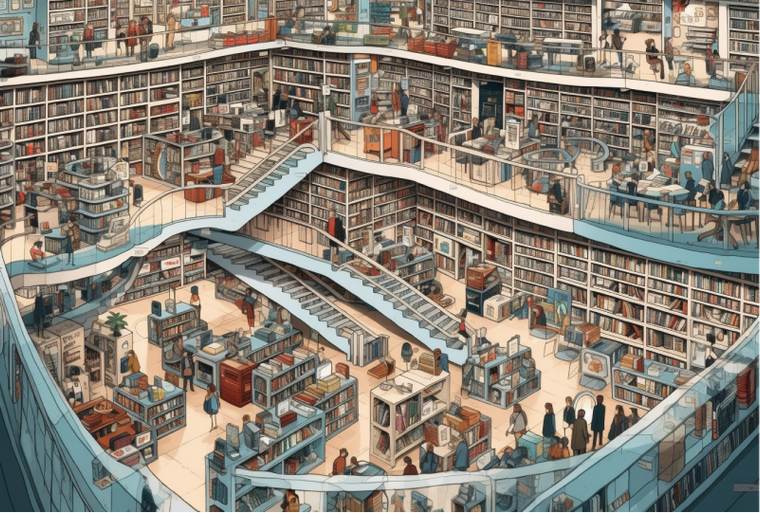 More posts
Interruptions at work are a huge problem and it's about time we treated the cause, not the symptoms.
Businesses are sitting on mountains of valuable data and knowledge that's waiting to be unlocked.
Wondering how to choose a knowledge management software that actually works? Here are the 8 critical things to consider.
If you're a Head of People, you should care about knowledge management
As a Head of People, you may typically leave questions of knowledge management to other leaders in your business. Since it involves allocating the right resources and tools or ensuring the right processes are in place, you could consider it an operations or tech issue — something that has little to do with your work.
But there's a human side to knowledge management, too. 
In our research with Cornell University, we found that the way knowledge is stored, shared, and accessed has a fundamental impact on company culture and the well-being of staff. 
When employees waste time searching for resources and information, it affects their work satisfaction and performance. They get tired, become less productive, and miss crucial opportunities for collaboration. 
If you're a Head of People or HR manager, this should be a serious concern. 
> Read more: What is knowledge management and why does it matter? 
Three reasons why knowledge management is a HR issue
Knowledge management is the way that your organization collects, stores, and disseminates the information people need to do their job.
There's no single way to do this. In small on-site businesses, team members may use to-do lists or ask others in the room for the information they need. But as organizations grow — or start to work asynchronously — accessing the right information becomes much more difficult. People become spread out across locations, tasks become more complex, and the potential distractions multiply.
Now, we're not saying that it should be up to you alone as a Head of People to organize your business's knowledge. But there are key reasons why you'll want to take a proactive role in making sure your knowledge management processes work. 
1. Knowledge is key to your organization's internal culture
Whether your business works async or not, the way you organize your knowledge is already shaping your internal culture — for better or for worse. 
Poor knowledge management, where information is difficult to find, spread out across different apps and tools, or generally disorganized, can breed frustration. 
For instance, in our research with Cornell, 69% of respondents told us they routinely find themselves having to waste time tracking down and accessing the information they need. The result is disrupted flow, a lack of focus, and less time available for deep, rewarding work.
And this frustration can contribute to a culture of fear and uncertainty. Many employees told us that they're concerned that information they share is getting lost, while others admitted to communicating updates even when they're not actually necessary. 
But flip that situation on its head for a moment. When staff do have all the knowledge they need at their fingertips, they find that collaboration becomes easier, people and ideas connect, and better decisions are made. That's not just good for your teams' ability to get work done. Better collaboration increases trust, engagement, and belonging, too. 
In a recent survey, HR managers said two of their biggest priorities were to improve the employee experience and attract and retain talent. If you're interested in boosting employee well-being, productivity, and engagement, the way you manage knowledge could be one of the best places to look. 
2. Effective knowledge management improves your existing HR processes
There's no doubt the things that you're already doing as a Head of People are helping to drive your internal culture, whether that's creating well-being initiatives or organizing staff perks and benefits.
But do your employees know that these perks and policies exist? HR teams typically have to handle a lot of ad hoc requests, queries, and calls for clarification on their programs — often answering the same questions over again. And that's precisely because this information isn't effectively stored, managed, and shared in the first place. 
In fact, six in 10 employees say they regularly have to ask more than one colleague for help to find the information they need. That's an awful lot of interruptions and distractions for your HR team to manage, and inevitably an enduring obstacle to productive work. 
It's another reason why having an effective knowledge management structure should matter to you as a Head of People — because it can save your HR team admin, time, and energy. And you'll also be empowering the individuals in your organization to work autonomously and self-serve. It's a win-win. 
3. People and knowledge can't be managed separately 
It's normal to think of the people in your organization and the knowledge they have as two separate entities. But that's a false distinction. 
Employees can't do much without knowledge of your organization's values, expectations, and processes. Just look at what it's like when you onboard a new team member. When they arrive, they usually don't know much about the way things operate, and as a result, might not be able to contribute as much as they want. 
A key part of becoming an equal, fully fledged part of the team, therefore, involves getting to grips with a company's processes, systems, resources, and values — that is, its knowledge.
Crucially, the way that knowledge is managed and shared will shape how this employee feels, works, and interacts with your organization. 
If this transfer of knowledge is only possible through in-person interactions, they inevitably have a partial understanding of their role. They're too dependent on asking the right questions of the right people. But if they have access to a centralized and transparent documentation system — where knowledge is committed and objective — your new hire could gain the same perspective as everyone else in the company. 
Use Qatalog to build a knowledge base that works for everyone
How can you build a knowledge management system that works for your organization and all the people in it? Start by choosing a tool that brings all your knowledge into one place. 
> Read more: How to choose and knowledge management system. 
Many businesses try to solve the problems of knowledge management by adding yet another tool to their software stack. But often the results are counterproductive. It can add a layer of confusion, more notifications, and another system to learn and get lost in. 
Instead, you'd be better off choosing a tool that streamlines your tool stack and brings information together. One that's flexible and customizable to your people, workflows, values, and processes.
Qatalog is a bespoke system that does exactly that. It's a single platform that brings together all the knowledge you hold in different places. This way, it lets you bridge the gaps between tools, departments, and minds to help you create a single knowledge Work Hub. It's designed to fit around you, your culture, and your way of working, and it scales with you as you grow. 
So don't let poor knowledge management continue to cause frustration. Instead, use a Work Hub to document and share your knowledge, collaborate, and communicate better.
Book a demo to see for yourself how Qatalog can improve your company culture.