More posts
Artificial intelligence will transform the way knowledge work is done. Here we discuss six key skills that will be valuable in an AI powered world.
How to enable innovation in a digital world - according to MIT's Dr Philip Budden.
Why Enterprise Intelligence is transformative
In today's era of cloud computing and SaaS sprawl, businesses generate data and information at an unprecedented rate. Within it lies valuable insights and knowledge that could be pivotal for critical decision-making and innovation, all of which drives growth. However, much of this knowledge remains inaccessible, scattered across hundreds of applications and repositories.
Enterprise Intelligence is a new category of technology that is poised to revolutionize how businesses access and leverage all this information and how employees engage with the business. It is made possible by the rapid advances in AI which allow the system to retrieve, analyze, and present any piece of information almost instantly, on request.
Common use cases
There are myriad potential use cases for this technology but, for most businesses, they fall into one of the following categories:
Employee information - Source information about your workforce or find the go-to person for help, depending on their role, expertise, or experience.

Communication - Locate information from conversations you've had across any of your communication channels, including email, instant messaging and more. 

Collaboration - Understand the real-time status, progress, and ownership of projects and tasks across your organization. 

Document and files - Find any file, document, or artifact across all your systems, no matter where it's stored. 

Department Specific information - Generate live insights about your sales pipeline, customer base, and suppliers.
Why AI is critical
Enterprise Intelligence is made possible due to the latest advances in AI, which enable a number of significant advantages as compared to traditional search tools:
Contextual understanding & enrichment - AI enables an understanding of the context behind a query using information about a user and the organization. This helps discern what a user is looking for, and where the information is located, without using very specific instructions. When formulating responses, the AI is also able to provide additional relevant context beyond the direct scope of the answer which the user may be unaware of, as well as suggesting further searches or actions that might be useful. 

Natural Language Processing (NLP) - Most people prefer querying systems in natural language, rather than carefully structured requests. AI-driven NLP facilitates this by understanding, processing, and responding to human language, making interactions much more intuitive.

Pattern recognition - Generative AI models are adept at learning patterns and nuances within large datasets. This enables them to understand user behavior, preferences, intent and anticipate future queries based on past interactions.  
Business impact
Enterprise Intelligence platforms such as Qatalog offer a host of transformative benefits. For organizations looking to drive growth while creating operational efficiencies, the potential impact is clear and compelling:
Create big time savings - Instead of wasting hours searching for information across multiple platforms or applications, employees now have a single source for all their informational needs that anyone can use with zero training. 

Enable 24/7 operations - In global organizations working across multiple time zones, work is often disrupted. Enterprise Intelligence platforms provide 24/7 support to the entire workforce, enabling seamless collaboration no matter where you're located.

Drive growth and innovation - With instant access to company knowledge and strategic guidance, employees make higher quality decisions with greater velocity. This has a compounding effect over time which drives growth and innovation.

More engaged employees - Enterprise Intelligence creates the foundations for an engaged employee base by making it easier to connect and collaborate across departments, understand company goals, and fostering a culture of continuous learning.
Qatalog is built with enterprise grade security and is quick and easy to set up. Just connect your tools and data sources via API and you're ready to go, with zero data-indexing required. 
Book a demo now to learn more about Qatalog's Enterprise Intelligence solutions.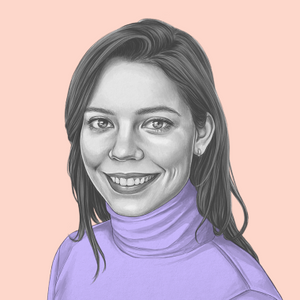 WRITTEN BY
Product Manager @ Qatalog
Kaitlin is a remote work veteran (since 2015) and having previously worked as a Product Manager at Qatalog, and at InVision running Sales Operations and Strategy. She's particularly interested in the intersection between workers' rights, flexible work practices, diversity, and workplace inclusion.