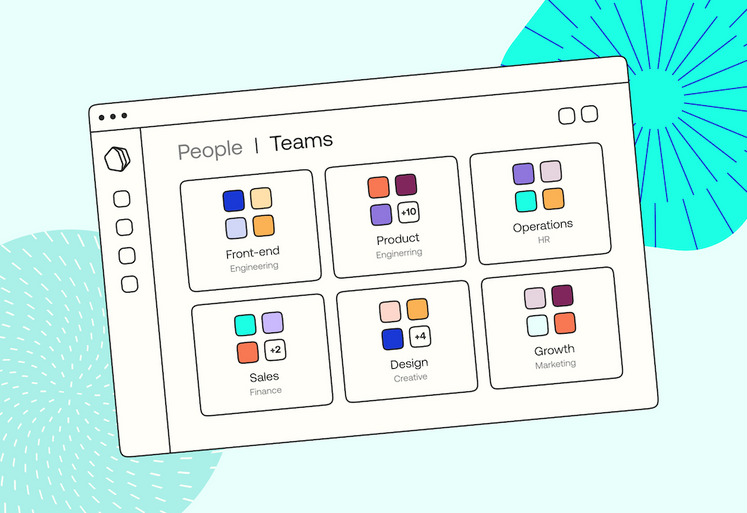 More posts
Businesses are sitting on mountains of valuable data and knowledge that's waiting to be unlocked.
Knowledge management is not just a concern for your operations team. Here's why HR leaders should care too.
Wondering how to choose a knowledge management software that actually works? Here are the 8 critical things to consider.
How an intranet differs from a work hub
Work about work takes up 60% of the average knowledge worker's time, according to one Asana study
Let's break that down. More than half of the time you spend at work isn't necessarily creating a clear output. And in a world where remote work is now commonplace, collaboration and resource-sharing tools are supposed to help solve this problem. 
Enter intranets, which became popular in the 1990s and are the traditional solution for providing centralized access to information and apps. There are pros and cons to implementing an intranet, which we'll go over in this post. But the first thing you should know about intranets is that they are a two-decades-old solution that hasn't yet evolved to tackle modern business challenges. 
What's an intranet?
An intranet is a private network that enables collaboration and resource sharing within an organization. 
Ideally, an intranet solution will provide employees with a central and authoritative source for all the tools and information relevant to their work. 
While it's possible to build an intranet from the ground up, in most cases organizations will use a product like Microsoft SharePoint, Jive, or LumApps to create their intranet. Regardless of the software used, an intranet is the content management system (CMS) that provides people access to resources like:
Company announcements
Links to internal web apps & cloud resources
Calendars
Policies
Employee directories 
Forms 
Types of intranets
Today, you can group most intranet solutions into one of three groups:
Traditional intranet: A centralized portal-style intranet that provides CMS-like access to web pages, resources, and files.  
Social intranet: Social intranets add features like chatting, liking, and @ mentions to traditional intranets. They also usually support more integrations and modern features (e.g. support for mobile access) than traditional intranet solutions. 
Intelligent intranet: Intelligent intranets aim to modernize the intranet experience with a user-focus, advanced search, integrations, and collaboration features beyond what is found in other intranet platforms. 
The difference between an intranet and the internet
Under the hood, an intranet and the Internet use many of the same protocols and technologies. Traffic flows back and forth between servers and clients based on DNS names and IP addresses. Users connect to a site using a web browser and click links on HTML web pages. 
The key difference is while the Internet is open to anyone, an intranet is isolated to an individual organization. For example, you may only be able to connect to your company's intranet via VPN, after authenticating using a cloud service provider, or when you're in the office. 
What about extranets?
Extranets are intranets shared by multiple organizations. As an example: if you grant your suppliers or customers access to your intranet, you now have an extranet. 
The pros and cons: Should you have an intranet? 
Done well, intranets can make employees more engaged and informed, which in turn makes them more productive. Intuitively, this makes sense. If you have easy access to all the information and tools you need, you get more of the important stuff done. 
Unfortunately, intranets often fall short of their potential, with research suggesting only 13% of employees use their intranet daily and over 30% never use it.
So, why is it that in practice the impact of intranets tends to be underwhelming?  
From a user perspective, the low engagement is often caused by the difficulty of finding information and using the intranet or the simple fact the intranet is full of dated and irrelevant information. Intranets often suffer from stale, redundant, or hard-to-find data. Additionally, intranets often lack thoughtful user-experience design and easy-to-use integrations for the apps where teams do their real work (e.g. project management software like Jira and CRMs like SalesForce). 
But why is it so common for intranets to get into this state? In a word: complexity.
Building and maintaining an intranet is both technically complex and resource-intensive. Beyond simply standing up the platform, overcoming customization, usability, and integration challenges is no small task. Often, outside consultants and developers are needed to devise and implement an intranet strategy. Then internal stakeholders need training and onboarding to begin using the platform. 
Even when the initial provisioning and deployment of an intranet goes well, maintaining content over time often falls by the wayside. This is because maintaining an intranet platform becomes additional "work about work." Stakeholders lose interest as they focus on the apps where real work gets done, the intranet content goes stale, and users look elsewhere for the information they need. 
In turn, knowledge that should have been easily accessible on the company intranet becomes tribal knowledge. Information silos form, work becomes disjointed, and knowledge management problems snowball. 
To address these problems, work hubs — which use a more lightweight and integrated approach — are emerging as a way to enable improved productivity in the modern digital workplace.
What's a work hub?
A work hub integrates an organization's collaboration, knowledge-management, and resource-sharing tools to provide people end-to-end visibility and streamline how work gets done. 
A work hub — like Qatalog — offers a modern approach to enabling knowledge workers. Qatalog acts as the connectivity layer, giving people the visibility of, and accessibility to, the information they need. As opposed to creating new complex workflows to maintain organizational knowledge, Qatalog integrates with the tools you're already using and allows you to focus on "real" work. 
For example, with Qatalog you have a single people-focused hub that provides visibility across tools. You can search all your connected tools to find relevant information in real-time, see who is working on what regardless of the app used to track the work, track workflows from a single integrated solution, and share one-to-many posts across multiple collaboration apps. 
Suppose you want to find information on "Project X," but you don't know if the documents you need are in Confluence, shared in a Slack channel, or posted to your CRM. With Qatalog, you simply run a single search and get back results from all your tools. 
Making a decision on an intranet vs. a work hub
While intranet solutions still have their place, for many digital businesses a work hub provides a more agile approach to knowledge management. With work hubs, teams now have a way to access the information they need quickly and easily. No months-long IT projects. No coding. No need to maintain a complex platform. Simply integrate and go. 
WRITTEN BY
Contributor
Isabelle is an actress slash content marketer, passionate about storytelling.