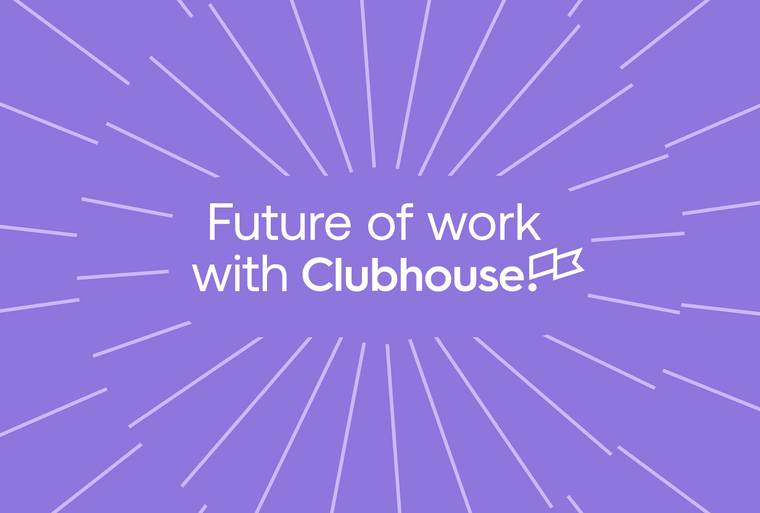 More posts
Interruptions at work are a huge problem and it's about time we treated the cause, not the symptoms.
Are your team updates getting lost in endless noise? These five tips will help your teams communicate clearly and share updates effectively.
Silos harm productivity and discourage teams from collaborating effectively. Here's how to eliminate them.
Kurt Schrader on collaborating in a remote world
Welcome back to our Future of Work series, where we speak with influential business leaders to learn about new ways of work. We spoke with Kurt Schrader, CEO and co-founder of Clubhouse Software, who built Clubhouse to make product collaboration easy for teams and organizations.
Qatalog: What "future of work" trends are you following closely?
Kurt: Once we get through the pandemic and everything that's going on now, I think we're going to see many, many companies move to a fully or mostly distributed way of working. The toolset for that had already been growing in recent years, but things have obviously accelerated. Teams need a better way to asynchronously talk about their work and get that work done together, but also need to be able to identify points where finding times to sync is necessary.
Q: According to Asana's Anatomy of Work Index 2021, distributed teams found they were using 60% of their time doing work about work. What do you think of that?
K: A meta survey about doing work about work feels a bit like work about work about work, but let's put that aside.
Any time spent doing work about work is ultimately not getting you to the finish line. I'd think that a big driver of this is just time spent finding things and trying to track down where an important conversation is happening. This creates a lot of overhead and the easier we can make it to put key info directly in front of people, the better and more productive teams can be.
The other piece is I don't know exactly how they're defining work about work here, but we think it's very important that there is conversation. The conversations that you would have been having before in-person in a meeting room now could happen, I think, in a better way, in a more thoughtful way inside some of these tools. I think we're learning that there need to be better signals that let people know their feedback is important and needed.
I think what a lot of organizations struggle with in getting to the finish line is simply saying, "This is what we're going to do. The work about work has come to an end and the actual work of execution has started."
I think there can be a real lack of clarity in a lot of organizations about when we should stop or put aside most of the work about the work and actually do the work.
Q: What's your collaboration tool stack?
K: For most of our collaboration at Clubhouse, you may not be surprised to learn that we use Clubhouse. It's the focal point all our collaboration revolves around. We also use Slack. Engineering uses GitHub. Product uses Miro. Design uses Figma. Support uses Zendesk. We do some of our prototyping and documenting in both Google Docs and Coda. A lot of stuff we do eventually makes its way into Clubhouse as we naturally evolve and improve it to meet our own needs as well as our customers'.
Q: What is the biggest challenge for you and your team and how do you work on overcoming it?  
K: The biggest challenge is the same one a lot of companies are facing: The inability for us to ever get together in person. It's hard to have those human moments that you had a year or so ago, and your entire lifetime before that, and figure out a way to connect with people. All that stuff's really hard right now, and I say that as the CEO of a company that has always been about half remote.
Q: What challenges do you expect Clubhouse Software will be addressing for its community a year from now?
K: Right now we're focused on helping product led teams collaborate better in this new remote environment that we all work in now.
A year from now, this way of working will probably broadly continue, but there'll be an emerging challenge where some people will be back in their offices while the majority of their teammates will still be working remotely. We're thinking about how to continue to really enable collaboration in this model where small groups of people are together and they're working with people who are remote.
What's the best way to make people most productive in those hybrid models? I don't think we have a lot of data points there yet, but I think we will soon. We want to be the best tool for not just distributed teams, but for these hybrid teams too.
Q: The rise of distributed work has given rise to the introduction of additional workplace tools. How do you support your new customers to ensure successful use of Clubhouse Software?
K: We've worked to build great integrations with the tools that our customers are already using, as well as with tools we think they might be using in the future, while centralizing the communication for all the work they're doing with those tools in Clubhouse. 
We look to hook into these tools to show the work that's being done, show how things are moving forward within that tool, and then bring the discussion and collaboration and feedback within Clubhouse.
Q: What do you think will help teams transition from surviving to thriving when it comes to distributed work?
K: Being able to go outside and see their friends. Have a beer with someone you like, who's not your significant other, who I'm sure we all also like. Even if it was just a random longshoreman at a bar, it would be nice to talk to people without a mask on, to interact with them without sounding like Bane in the Dark Knight Rises.
Q: If you could read an interview of anyone about the future of work, who would it be? 
K: Dylan from Figma. I don't know him, but he does a good job of talking about work, at least from the design perspective. Which is a perspective I like to hear.
Q: Finally, Kurt, tell us what work-life balance means to you today?
K: Absolutely the wrong person to put this question to right now. There's so much overlap between our work and home-life and work-life for everyone right now, that it's hard to disconnect. It certainly is for me. 
Making sure that you explicitly set aside time to connect with the people that are important to you because it's way too easy to always be working on something. 
Let's be honest, there's less and less of that other life out there than we've ever had before, at least in the modern era. You gotta make sure, in a very explicit and deliberate way, to disconnect from work and make that part of the thing you do, every day and every week.
WRITTEN BY
Contributor
Isabelle is an actress slash content marketer, passionate about storytelling.