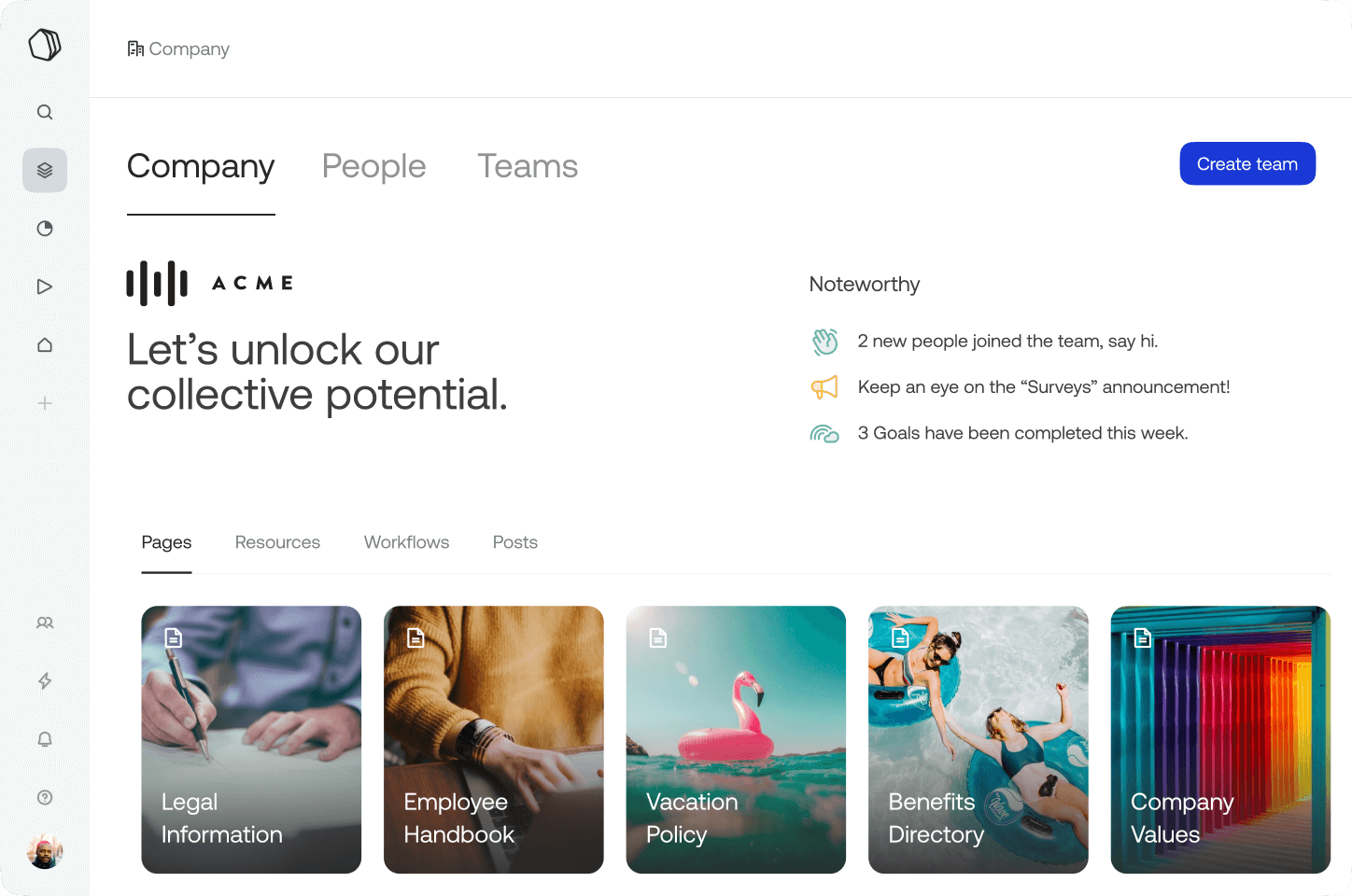 Centralize company-wide information
Use the customizable Company page to create and add wiki pages like your vacation policy or onboarding guides, post company-wide updates, and add important resources or processes.
Customizable company page

Wiki pages and important resources

Company-wide updates with Posts
See important updates across your org
Review the Recent Activity feed to get a snapshot of noteworthy updates across your Org. Or, for updates personalized to you, use the Smart Feed on your Homepage.
Org updates with an Activity Feed

Personalized Smart Feed
Connect people and teams with a Directory
Create and view detailed People and Team profiles linked to Projects, Goals, critical conversations, updates, and more.
Customizable People and Team profiles

Posts for important updates

Recognition with Kudos
Visualize organizational reporting lines with Org Charts
See how everyone's work fits together with the Org Chart view in your Qatalog Directory. And keep reporting lines up-to-date by syncing the Org Chart with your company's HR tool.
Synced to company HR tool

Custom teams and squads
See how it works for …
Join thousands of teams centralizing org-wide information
Operations Managers
Ops Managers use the Company section to store important documentation, processes, and company updates. This makes work visible and easily accessible for all teams.
Knowledge Managers
The Directory and Org Chart provides a complete and transparent onboarding experience for new joiners, showing interconnectivity between teams, priority initiatives, and key goals. And the Company section acts as a central resource for training, employee handbooks, and company values.
What is the Qatalog Company section used for?
How is Qatalog different from a company or corporate wiki?
Get started with your
single source of truth for work