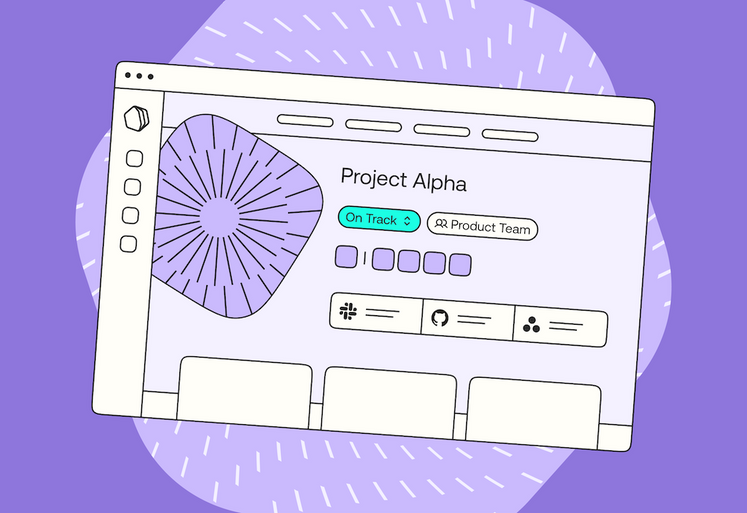 More posts
Software often forces teams into unwanted ways of communicating, collaborating, and organizing tasks. But it doesn't have to.
Spreadsheet hell is a reality for many businesses. But it's possible to escape. Here's how.
A quick guide to the key differences between wikis and Work Hubs.
What is a digital workspace?
Now that distributed teams are spread across different contexts, time zones, and languages, employees are turning to new digital tools and apps to communicate, collaborate, and align. 
These tools were built to boost efficiency, but have ended up bringing greater complexity and chaos to our digital workspace. According to one 2020 study, the average company is now using 88 different apps. Qatalog's research found that 60% of tech companies struggle to gain visibility into colleagues' work. And when sales loses sight of what the product team is up to, workflows get jammed — and frustration builds.
Work doesn't have to be this way. In a digital workspace, all of your teams, projects, and tools can come together. 
What is a digital workspace?
Once upon a time, your digital workspace strategy was simply the envisioned complement to the physical workplace — the aggregate of disparate means for digital collaboration. These days, virtual workspaces are specific platforms, built to bring distributed teams together with all the tools they need to be productive.
A digital workspace brings all your tools and processes together. This virtual environment is where your teams collaborate and communicate, alongside (and within) the tools, resources, and processes that everyone needs.


A digital workspace allows for an asynchronous environment across time zones, devices, and distance.

Distributed teams aren't always available at the same time. A digital workspace is a shared environment that allows them to stay up-to-date and on-track whenever convenient for them.




It's where you do your work.

A

virtual workspace isn't just your collection of tools. It's

where you do your work,

too. It's your window into goals, workflows, posts, projects, and people.
Why your team needs a digital workspace
Having a digital space for teams to collaborate matters. Why? Across apps, tools, and channels, it is the only way to eliminate workplace chaos. 
According to Gartner's Cool Vendor Report, "remote and hybrid work amplify challenges in coordinating teams as the needs for flexibility around time, place and technology affect everyone."
Here's how a virtual workspace can change your digital operations:
Time well spent.

A 2018 study

found most team members spend an hour a day flicking between apps. In the span of a year, that's about a month of lost work. A digital workplace is integrated, clear, and searchable — so you can spend time on more productive things.
Greater alignment, greater visibility.

When each team has its preferred tool, cross-functional visibility suffers. Marketing loses sight of product design and workflows stall. Effective digital workplaces can integrate Asana with Jira and Slack, for example.

Truly collaborative. Across distances, catching up by the water cooler isn't an option. In an optimized virtual workspace, the status of processes and progress is visible to all. This means everyone is already up to speed — making collaboration

actually

collaborative from the get-go.

Boost team bliss.

An efficient workplace is a happy one. When teams can't find their way among the chaos, frustration builds. Virtual workspaces provide clarity.
Virtual workspaces are changing
If you had asked about digital and virtual workspaces 10 years ago, someone may have pointed to Microsoft or Google. Today, there are solutions that allow a company of any size to connect their many workspaces and applications into one, integrated work hub. 
Here are some other changes we've seen within the space:
Heavy-weight enterprise solutions are no longer the only option.

New virtual workspaces don't need a dedicated IT team to manage permissions and administrate updates and sign-ins. For teams to be light on their feet, your workspace needs to be, too.




Digital workplaces are much more agile — and now they're bottom-up.

With organizations more decentralized than ever, tech spend is entrusted to teams who need it. A new digital workplace gives teams full control of the apps they use without forcing them into one top-down framework that nobody wants.




App developers are waking up to what teams need. In the new generation of digital workplaces, functionality and flexibility are central. Say goodbye to unnecessary features that add chaos to your work.
A work hub is a connected digital workspace solution
A work hub brings together everything and everyone you work with to add context and perspective to the tasks you are doing, the projects you're managing, and the goals you're striving to meet. 
But what gives a work hub the edge over other digital workplace solutions? 
For starters, it's quick, clean, and built for the diversity of modern work:
Clean and simple user interface

. A work hub has all the capabilities of heavy-duty enterprise workplaces, without sacrificing usability.  The user interface is designed for effortless experiences, creating a clean and distraction-free online space.

Essential functionality

. A work hub keeps things simple. You can customize your space to integrate the tools and projects your teams need without adding unnecessary noise.

Absolute flexibility

. Integration with popular apps is as simple as a single click. When two teams use two different tools, this kind of flexibility is vital. Individuals can choose the tools they need to do their work — and a work hub brings them together in a single organizational space.
A work hub makes your work make sense. Lightweight, agile, and with streamlined functionality and clarity of design — it delivers the best of a digital workspace, without the need for an expensive or tech-heavy solution.
WRITTEN BY
Contributor
Isabelle is an actress slash content marketer, passionate about storytelling.