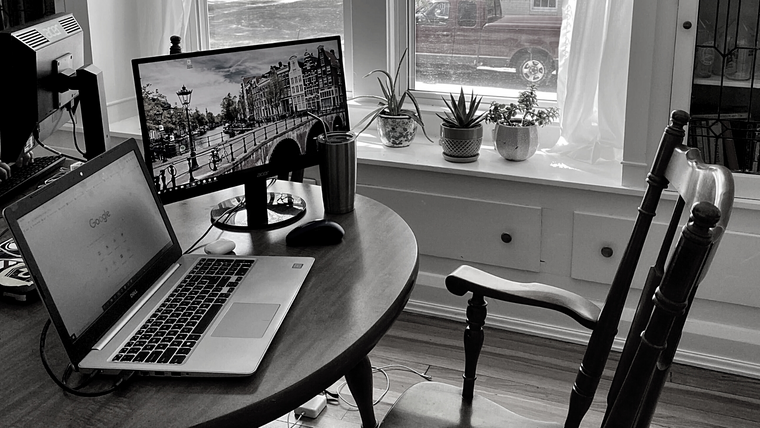 More posts
The genie is out of the bottle. The rise of flexible and asynchronous working has irreversibly changed the way we think about time at work, but the reality is still catching up.
Teams can't function without trust. But how can companies forge trust in a remote environment? Founder of REMODE, Leon van der Laan, shares his key tips.
While many employers make bold promises when it comes to flexibility, the reality for knowledge workers is often very different.
The argument for autonomy
I've been thinking a lot about the performative productivity that unhealthy work environments hide so well. The hours spent moving a mouse around Slack in order to appear online at all times, the emails sent covering wholly unnecessary status updates, and how knowledge workers are often blamed for this. It becomes the fault of the employee for not maintaining peak productivity at all times. 
Charlie Warzel made the excellent point that workers want to work. But we want to work for organizations that focus on people as assets. We've started to search for companies that invest in employees as the future of their business — and call out the ones that don't.
The shift to remote work highlighted the ability for companies to afford basic flexibility for staff. And for the most part, employees are satisfied with remote work. Of course, this flexibility is a luxury not offered to frontline workers, who are also increasingly standing up for the value they provide to their corporations, at least here in the United States. 
Autonomy has become a priority for many remote workers
As a knowledge worker who is relatively new to the full-time job world, without realizing it, the first thing I prioritized in my working life was autonomy. Before accepting my job at Qatalog, I was positioning myself as a freelancer and contract worker in order to have more freedom over how I spent my days and where I spent them. I was entirely uninterested in jobs that required me to move back to Boston by a certain time because it went directly against the autonomy I was so keen on keeping. 
Especially after a year of unexpected chaos, we're all desperate for that sense of self-directed freedom. And the best way for companies to provide that is by respecting the desires of their employees, and trusting that we can get work done from anywhere.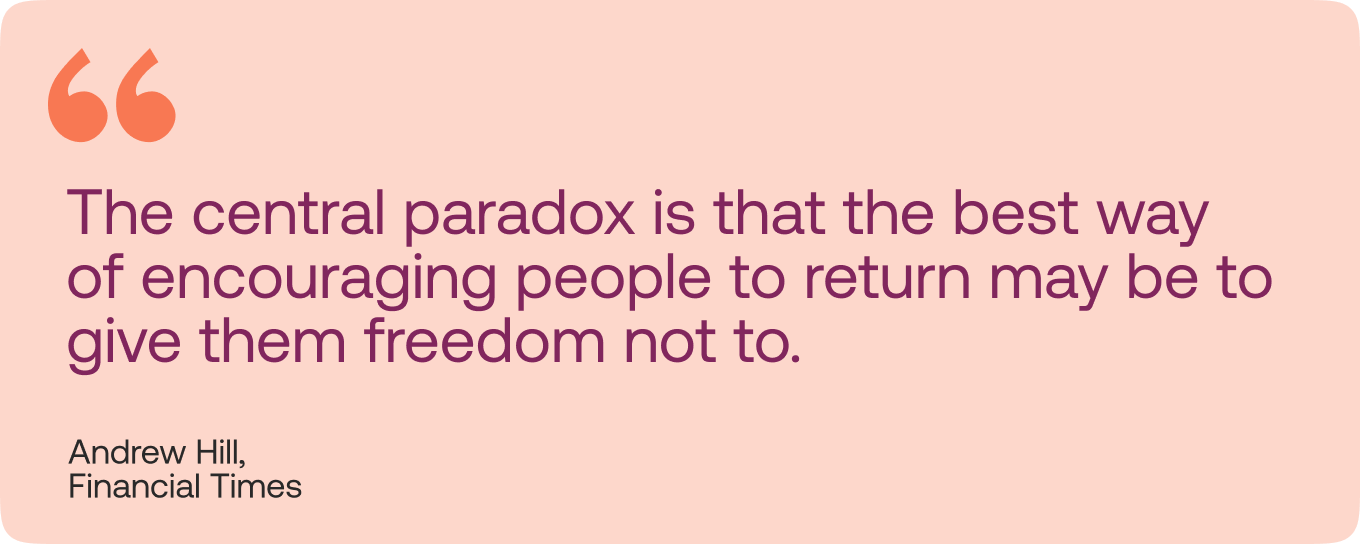 In addition to the eagerness for autonomy, we have to fight the urge of wanting to return to exactly the way things were before the pandemic. We have yet to see a utopian working world where collaboration, creativity, and productivity are plentiful without distractions or context switching. Even if we could snap our fingers and act like COVID never happened, we'd still be facing a lot of the same workplace chaos and tool overload that plagues us now. Our tool adoption assisted us in the emergency switch to remote work but was happening at a rapid pace even when we commuted five days a week. 
Many noteworthy executives have chimed in on the remote vs in-person battle over the last few weeks. Sandeep Mathrani, WeWork's CEO, told the Wall Street Journal that the least engaged employees prefer working from home. The staff of Washingtonian magazine refused to publish after CEO Catherine Merrill wrote a piece stating that managers have "a strong incentive" to demote employees who don't return to the office. Back in February, the CEO of Goldman Sachs referred to remote work as "an aberration that we are going to correct as quickly as possible." 
Where the "return-to-work" debate gets it wrong
To me, these warnings read as: this is the way things have always been. A dangerous perspective in the ever-changing landscape we've deemed "future of work." In our excitement to return to a sense of normalcy, we should remember that for a lot of people, normal wasn't working in the first place. The truth of the matter is that no organization was/is perfect, and some are trying a little harder to provide an enjoyable experience for their employees as they navigate how to approach a working model that somehow satisfies the opinions of everyone.
Back to performative productivity: I think a lot of the bad rep remote work gets is because people assume that workers who have the ability to work remotely also have the ability to slack off. They don't have someone watching their every move, so therefore they won't get anything done. 
In my experience, remote work has proven just the opposite. I am not showing up to work just to show up anymore. I'm showing up because I have things I need to get done. And whether that happens at 6 a.m. from my bed or on Saturday evening because I couldn't focus after 3 p.m. on Friday, who cares?
Statistics also show that remote working may improve productivity and lead to happier employees. 75% of people who work remotely do so because there are fewer distractions and 86% of people feel that working remotely reduces stress. Companies that allow remote work have 25% lower employee turnover than those that don't.
Here's another perspective: if you can't trust your employee to get anything done without infantilizing them, you shouldn't have hired them in the first place. In the return-to-office debate, a lot of what we're getting wrong is the idea that executives have to decide the best outcome for everyone. In the case of the Washingtonian, this was done without any regard to what employees actually wanted. 
We need to focus on trust-based employment to shift working practices and expectations. Qatalog's own CEO was quoted in the Financial Times recently: "I think the world is going to shift into a higher trust environment, and employers have to – they don't have a choice."
We all went through a pandemic, and it was a little traumatizing
On top of all this, most of us are just exhausted. We lived and worked through a global pandemic, and still managed to get things done. We don't want to have to deal with the politics of defending the working model we prefer or have to fight for autonomy after it's already been given to us. We've proven that we can work outside of the office, and the idea of returning to work may bring unwanted stress. 
Remote work has done a lot to showcase the unhealthy work habits we picked up over decades. It has shown us that companies that trust their employees and provide an open, trusting environment are faring far better in the return-to-work decision. The one-size-fits-all approach of office work is no longer a viable solution for many knowledge workers who have settled into and found autonomy enjoyable. 
And work should be enjoyable. If autonomy provides that sense of enjoyment, why not offer your employees the choice to manage their own workday?
WRITTEN BY
Contributor
Isabelle is an actress slash content marketer, passionate about storytelling.