Template — Daily standup
Intro to daily standup
A standup meeting is a short meeting between a team that is held while 'standing up'. Goal is to go over core daily tasks that have been finished, are in progress, or are about to start.
Originally adopted by Software Engineering teams, standups have gained popularity in other functions such as marketing, product management, business development, and many more.
You can post a daily standup on your team messaging channel (e.g. Slack, MS Teams, or Qatalog Updates) first thing in the morning, so to bring everyone in the loop and promote transparency.
You just need to answer four basic questions—get started by copy pasting the questions in the 'Template' section, or by checking the 'Example' section.
Template
How do you feel today?
What did you do since the last standup yesterday?
What will you do today?
Anything blocking you or any risks to highlight?
________________________________________________________________________
This template was inspired by: Geekbot.
If you want more templates to share and track your work, request early access to Qatalog here.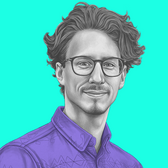 WRITTEN BY
Matteo Tittarelli
At Qatalog, Matteo looks after Growth Ops and Product Marketing. No day is the same for Matteo — you can find him interviewing customers, writing down product messaging, or setting up various customer acquisition and lifecycle channels. When not at work, Matteo enjoys reading psychology books, practicing meditation, or planning his next year-long trip to Asia.