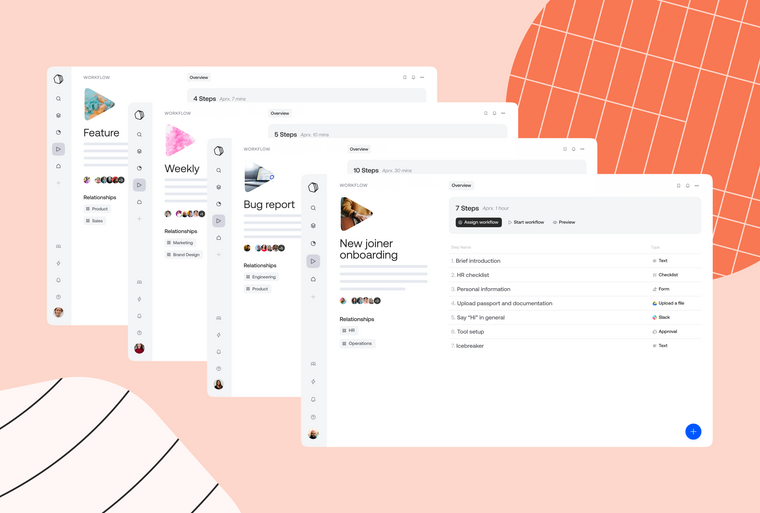 More posts
Here's what we've launched or updated in Qatalog in the past month.
Here's what we've launched or updated in Qatalog in the past month.
Here's what we've launched or updated in Qatalog in the past month.
You don't need to be an engineer to create standardized company processes
It'll come as no surprise that the Qatalog team uses Qatalog all day long — it's rumored that Marta, our Chief of Staff also uses it in her sleep. So naturally, we all get very excited about updates to our workspaces. 
We recently gave our UI a refresh, and safe to say, it's stunning. Not only is it visually appealing, but we've also made it much easier to get started on Qatalog with guided setups. So, if you haven't seen our smooth, easy-on-the-eye design — we've often been called the only GenZ/Millennial-friendly work solution out there — you're missing out.
Bug reporting and bug squashing
However, as with all larger-scale updates to software, bugs will inevitably crawl between the code. So before we let our customers share in our rapture for how much easier work gets with every new release across our Work Hub, we stress test everything internally, in a process dubbed dogfooding. It's become a sort of competition between us – who can find the most, the hardest to uncover, or the most critical to usability. And we wouldn't have a chance of getting any of this done without Qatalog's very own Workflow feature. And yes, there are extra points if you find a bug in the bug reporting process. 
The steps in our bug reporting Workflow record every critical piece of information our engineers need to locate the source. There are text fields for the description of actual behavior vs. expected behavior, drop downs for browser and hardware info, and additional upload fields for images or videos. Once the Workflow is completed, we immediately receive a notification in our #bugs Slack channel which allows for further discussion and additional visibility. Most importantly, the Workflow automatically creates a ticket for the relevant engineer using all the entered data. In short, the completion of one process in a Qatalog Workflow triggers the automatic completion of two other steps linked to our engineering tech stack, which most of the team don't have access to. This saves approximately 10 minutes of work per bug for an engineer but, above all, it puts a structured, consistent and scalable process in place that ensures we can priortize and trace bugs and keep shipping improvements to our customers…and to our Chief of staff.  
Automating standard operational procedures 
That's just one example of how Qatalog uses Workflows internally to save everybody time while creating a higher-quality outcome. So if you don't have bugs to worry about, how else can Workflows help your business? In a nutshell, Workflows let you automate standard operational procedures. They transform repeat tasks into a structured and simplified sequence, making it easy for crucial steps to be followed correctly, even by people unfamiliar with the process or completing it for the first time. The completion of one task triggers or even automates the start of another and the user only has to fill in the parts that are unique to the event, saving hours a week. 
Internally, we rely on Workflows across people operations for quick weekly processes such as payroll updates, work with external accountants, or multilayered, monthly processes like hiring, onboarding, or colleague feedback, to ensure consistency in execution every time. 
Our finance team uses Workflows to gather all requests to work with external consultants, contractors, and companies in one place. Our sales team documents their daily standups or post-sales call actions using Workflows. Our customers have raved about their newfound ability to operationalize daily routines, cover critical Project steps, onboard clients, log requests to ops teams, or even create internal resource centers like intern reading assignments. No matter the team, there is a clear use case for setting up a Workflow and getting time back that would otherwise have been wasted searching through your tool stack or duplicating work. 
If you're new to the world of process automation the good news is that you don't have to start from scratch. Our Workflows are now available to Qatalog users in the form of templates, such as daily stand-ups, new joiner onboarding, or hiring process templates.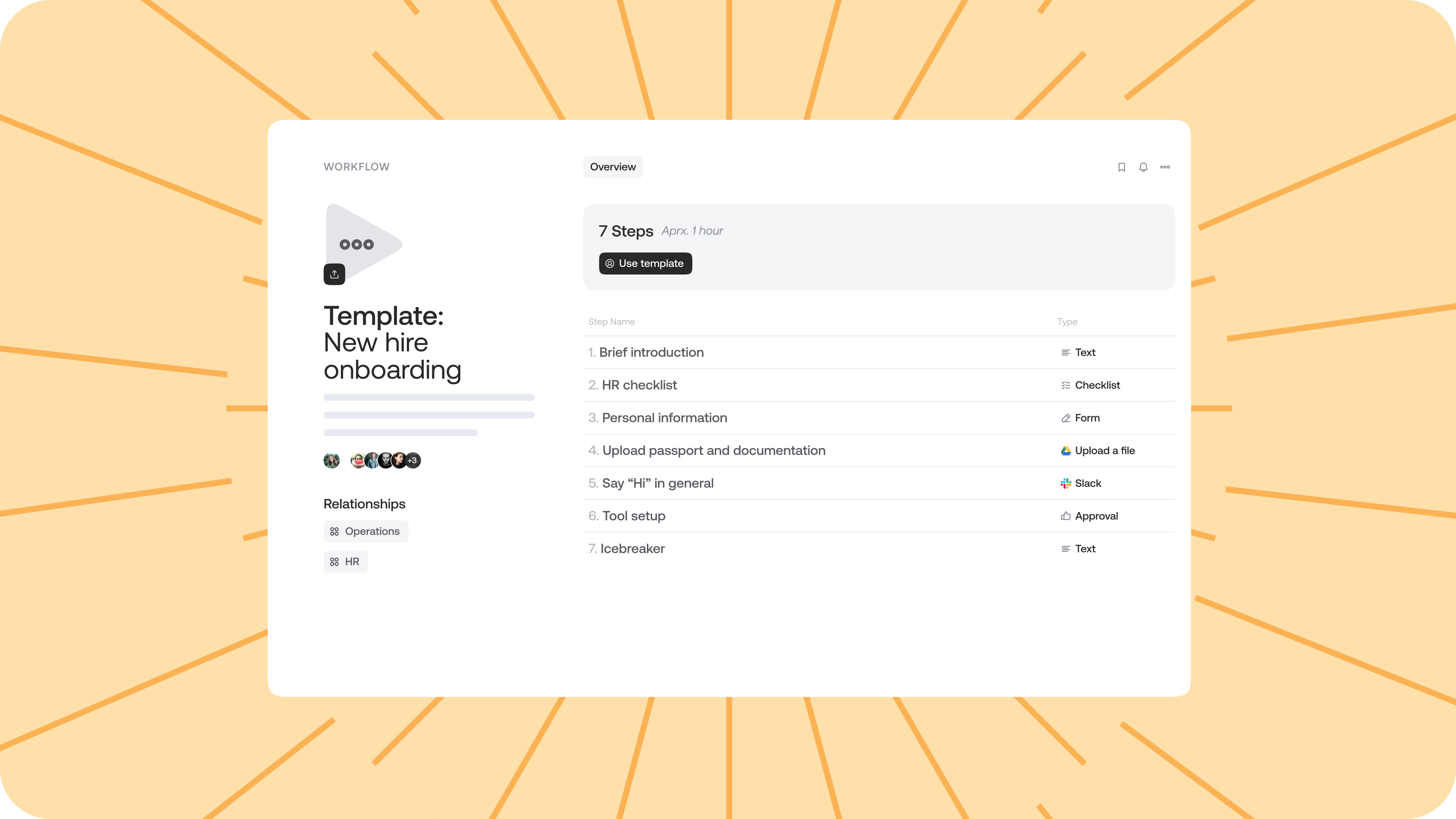 And this most recent version of Qatalog brought further superpowers to Workflows.
Coordinated Workflows let you create things like team or project-specific processes that simplify alignment. Externally shared Workflows let you collaborate with teams outside your org. No more back and forth, no more squinting at email threads for information, just hours of time saved. And nested Workflows merge multiple processes into one, which makes complex tasks like the onboarding of a new employee manageable using only one primary Workflow. You can read more about how you can turn weeks of onboarding into an afternoon here. 
If you're starting to sense a pattern, it's because there is one – our Workflows give time back to people so they can spend it on the things that matter, rather than wasting it on mundane, repetitive work. 
And it doesn't stop there. Our engineers have also added a multitude of new steps and outputs to improve functionality. Within a Workflow, it's now possible to create Asana or ClickUp tasks, Jira or Linear issues, Trello cards, or even automate the creation of new Dropbox or Google Drive folders and save files within them. In turn, these outputs can also be used to trigger further steps. As demonstrated with our bug reporting Workflow – the Shortcut ticket that is rendered after the Workflow is completed also generates and sends a Slack message to the Qatalog bugs channel. Qatalog not only integrates seamlessly with other work tools but acts as a coordination layer between them.
Long story short, with Qatalog you don't need to be an engineer to set up automated company processes. Start here!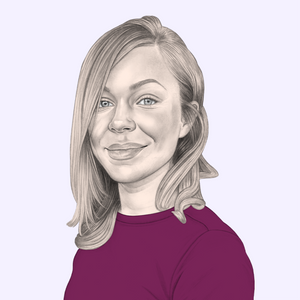 WRITTEN BY
Contributor
Eniko is a remote work aficionado. You can find her either traveling or in a far far away co-working space, helping brands reach their audiences.