More posts
Are your team updates getting lost in endless noise? These five tips will help your teams communicate clearly and share updates effectively.
Silos harm productivity and discourage teams from collaborating effectively. Here's how to eliminate them.
Siobhan McKeown explains why processes are the foundations for creativity and how to get them right.
Remote and Hybrid Work Statistics 2021 and 2022
The world of work is dynamic and ever-changing. It's never stagnant, and every company has its own environment and ways of adapting to new employee needs, workplace trends, and shifting working models.
Staying up to date on new developments is critical to understanding where our work is heading. We've heard a lot about hybrid, remote, and flexible working models. We've seen a lot of news about changing technologies, more transparency, and going-back-to-work trends because every new change impacts what we do day-to-day and how we interact with the people around us. 
We've compiled a list of remote and hybrid work statistics in 2021 that we've returned to repeatedly, so we have decided to keep it relevant by adding fresh data from 2022. We hope these stats allow you to connect with your colleagues, leaders, and customers as we navigate shifting sentiments about staying at home, going to the office, flexible working, or adopting new tools.  
Remote and hybrid work statistics 2022
65% of workers said they have more flexibility to decide when they work compared to before the pandemic (Qatalog, GitLab) 
An all-time high of 79% said they were more productive working remotely. (

Morning Consult

)

A quarter of all professional jobs in North America will be remote by the end of this year (GitLab

)

52% of respondents would like an asynchronous-first working policy moving forward (Buffer)
However, only 38% said their companies have async-first ways of working in place (Buffer)
43% of leaders say relationship-building is the greatest challenge in hybrid and remote work. (Microsoft)
88% of workers the flexibility of hybrid working has increased their job satisfaction. (Ergotron)
72% of companies are planning on permanently allowing some amount of remote work, compared with 46% last year. (Buffer)
Remote jobs on LinkedIn attract 2.6 times more views and nearly 3 times more applicants compared to on-site roles (LinkedIn)
Return to office statistics 2022
38% of hybrid employees say their biggest challenge is knowing when and why to come into the office (Microsoft)


66% of workers said they would consider resigning if they were prevented from working flexible hours, and 43% indicated they would consider a lower-paid role if it gave them greater schedule flexibility

(Qatalog, GitLab) 
As of February 2022, 34% said they would still be uncomfortable returning to the office (

Morning Consult

)

51% of hybrid employees say they will consider a switch to remote this year...

and even more

remote employees (57%) say they'll consider a switch to hybrid (Microsoft)
Employee experience statistics 2022
Beyond fair pay, employees are looking to get the following from their employers: positive culture (46%), mental health and wellbeing benefits (42%), a sense of purpose/meaning (40%), flexible work hours (38%), and more than the standard yearly vacation (36%) (Microsoft)

56% of hybrid workers report improvements to their mental health since making the change (Ergotron)

Full-time office workers report 1.5x (and worsening) work-related stress and anxiety, compared to remote workers (Future Forum Pulse)
However, due to new tech, 73% of people receive and reply to work notifications outside of working hours, eating into their leisure time and making it hard to switch off from work (Qatalog, Gitlab)
54% of asynchronous workers feel pressure to show they are online at certain times of the day, rather than being encouraged to focus on their output (Qatalog, GitLab) 
In order to avoid suspicion from colleagues and bosses that they are not working hard enough, remote and hybrid asynchronous workers are spending 67 extra minutes online every day, the equivalent of more than 5.5 hours each week (Qatalog, GitLab) 
Knowledge workers with little to no ability to set their own work hours are 2.6x as likely to look for a new job in the coming year, compared to those with schedule flexibility (Future Forum Pulse) 
Remote work statistics 2021
Hybrid work statistics 2021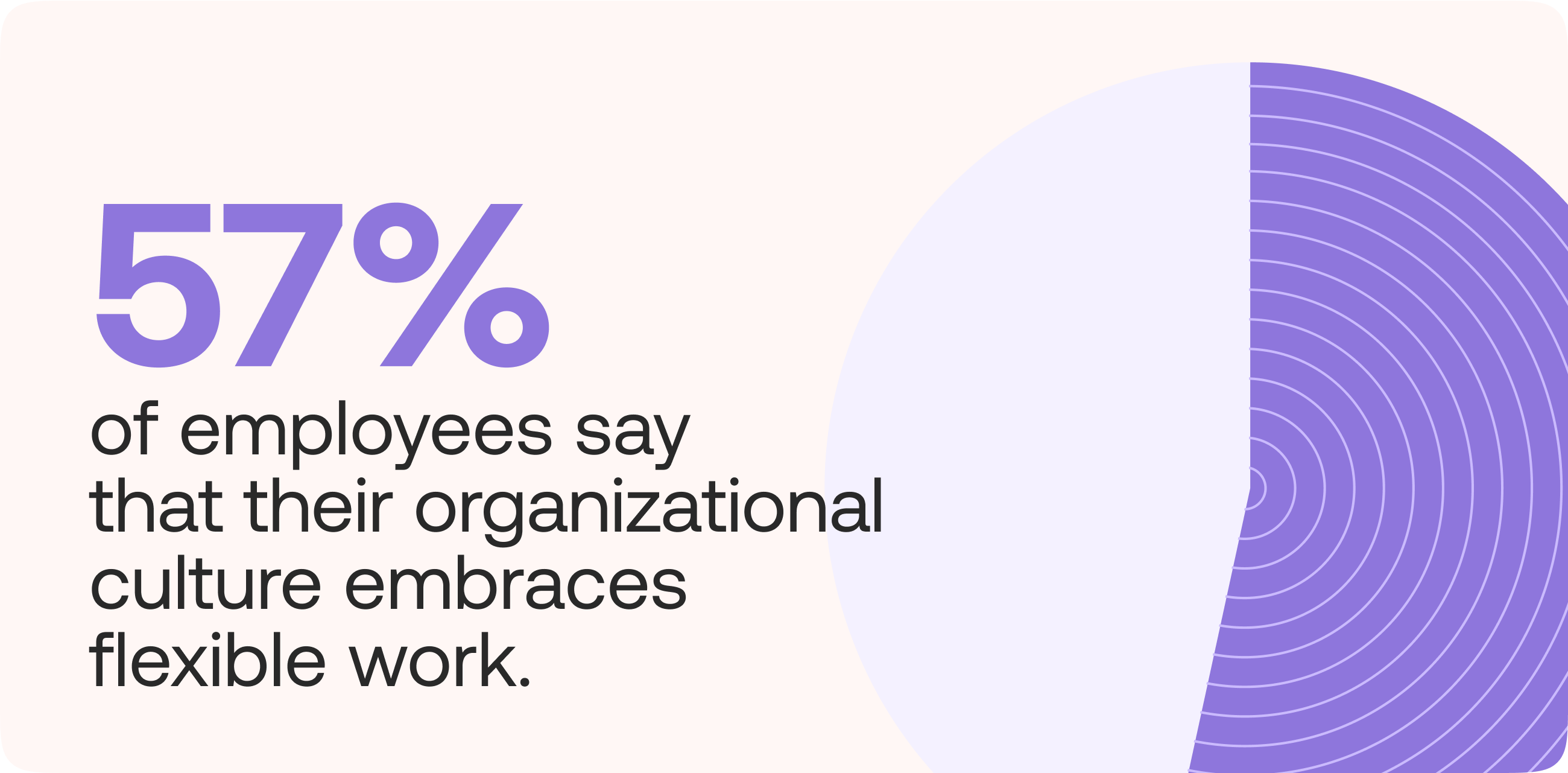 75% of executive leaders believe they are already operating within a culture of flexibility, yet only 57% of employees say that their organizational culture embraces flexible work (

Gartner

)

66% of leaders say their company is considering redesigning office space for hybrid work (

Microsoft

)

71% of managers were surprised by remote workers' productivity (

Hoxby

)

51% of employers support the hybrid work model, while only 5% mention fully remote work as a possibility (

Remote work & compensation pulse survey

)

Hybrid work models are used by 63% of high-growth companies

A hybrid model that works for all generations may be a challenge: three in four Gen Zers (74%) want more opportunities to collaborate with colleagues face-to-face, a higher percentage than Gen Xers (66%) and Baby Boomers (68%).

83% of 9,326 workers surveyed say they prefer a hybrid model — in which they can work remotely at least 25% of the time

(

Accenture

)

After COVID-19 92% of people surveyed expected to work from home at least 1 day per week and 80% expected to work at least 3 days from home per week.

Around 42% of leaders believe hybrid working boosts employee wellbeing (

Owl Labs

)
Return-to-office statistics
71% of executives agree leadership at their organization has expressed a preference for work conditions to return to their prepandemic model; only 50% of employees heard that same message (

Gartner)

66% of organizations are

delaying reopening

their offices due to new COVID-19 variants (

Gartner

)
Employee experience statistics 2021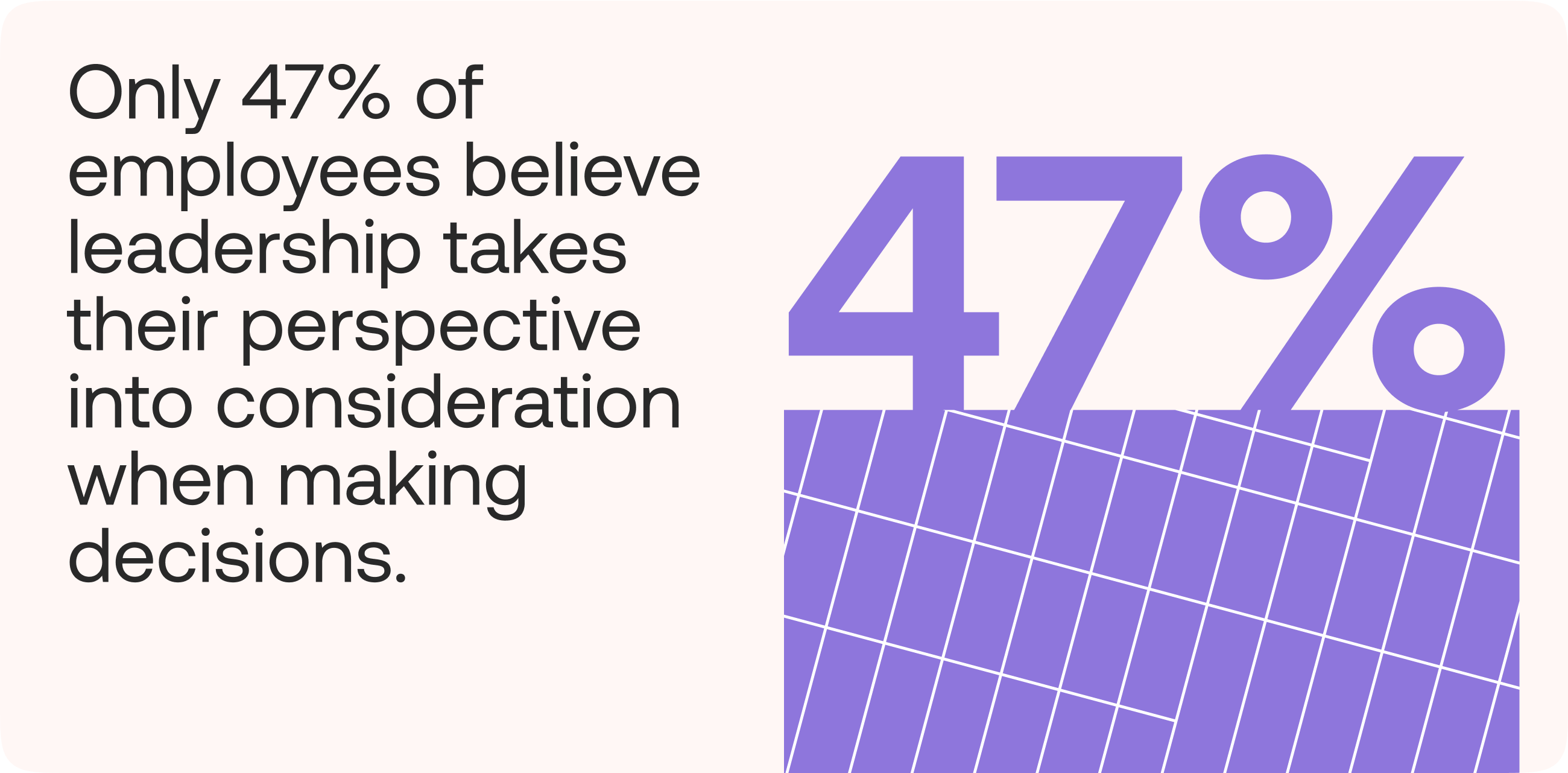 Workplace tech statistics 2021
Technology traps knowledge: employees are digging through cloud storage systems, scouring message channels, and cycling through tabs, wasting around 59 minutes per day 

Apps restrict access to knowledge: 54% of people say that applications can sometimes make it harder to find information and 58% of people report that they're not certain all departments use the same online apps

49% of people report concerns that important information will get lost and one in two are uncertain the information will reach the intended audience

43% of people report spending too much time switching between different online tools and applications, and 48% report making mistakes because they can't keep track of information stored across online tools and apps (

Language.work

)

Only 66% of employees agree they have the technology they need to

effectively work remotely

, compared to 80% of executives (

Gartner

)

Only 38 percent of Europe's SMBs are planning to invest in new tech (

Owl Labs

)
WRITTEN BY
Contributor
Isabelle is an actress slash content marketer, passionate about storytelling.