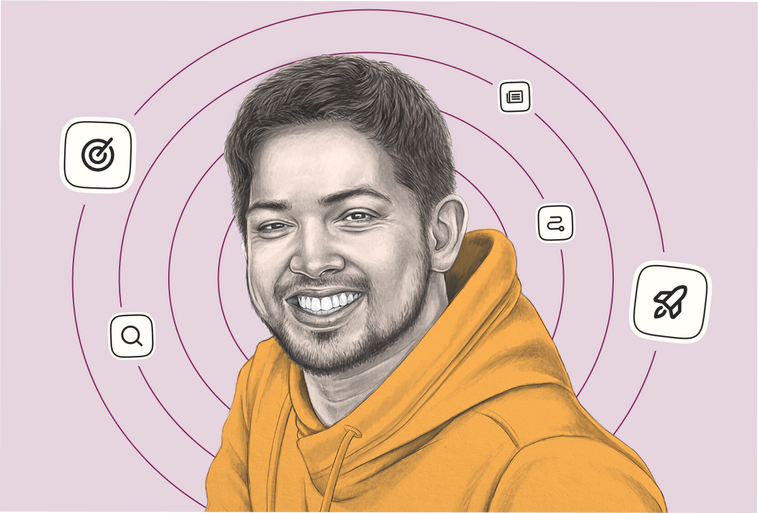 More posts
Businesses are sitting on mountains of valuable data and knowledge that's waiting to be unlocked.
Artificial intelligence will transform the way knowledge work is done. Here we discuss six key skills that will be valuable in an AI powered world.
The story of Qatalog and its founder, Tariq Rauf
Tariq Rauf is the CEO of Qatalog, which he founded in 2019. The company has grown quickly since then, helping to power thousands businesses, with a distributed team of almost 50 people spread across four continents. 
I spoke to Tariq to understand more about Qatalog's unique approach to software for work, why his background in architecture gives him an edge, and how he sold his first piece of software at 12 years old.
For those who are new to Qatalog, how would you explain it to them?
Qatalog is an entirely new way of using, thinking about, and building software for work. It's a Work Hub that centralizes your people, teams, projects, goals, documentation and processes. Think of it as the single source of truth for work that makes cross-functional initiatives visible, processes more efficient, and gives your work structure.
There are lots of productivity tools already. Why is Qatalog needed?
The 'software for work' market is enormous and has produced some of Silicon Valley's biggest success stories. But the reality is that innovation has been stagnant for a very long time. We're still using primitive tools that have remained the same for many decades. 
Yes, they have slicker UI and more granular features, but the foundational structure of these products has barely changed. Slack is effectively the same as Internet Relay Chat from the 1980s. Microsoft Word's original incarnation in 1983 looks remarkably similar to today's. Dropbox is an online version of the same file manager that's existed for almost forty years. 
The consequence of this stagnation is that the productivity software we use doesn't actually make us more productive. It has failed in its promise. This is largely due to the fact that while the products themselves haven't really changed, their scale has increased massively, often by ten or even one-hundred times. Suddenly, you have 5,000 or 10,000 person organizations using software that was initially designed by a small team for another small team. The ergonomics don't fit and it starts to break.  
Qatalog is different because we set out to solve this challenge from day-one. Our goal was always to build something that considers how organizations actually function at scale and help them to operate and collaborate efficiently. 
Why have you thought about the problem differently, do you think?
Perhaps it's just a difference of perspective. I am a trained architect and I specialized in large technical and transport buildings. I've worked on designs for an airport terminal for 60 million people annually and a $400m large scale cancer research center. My mentor was Charles Correa, who designed these buildings, and the experience was transformational.  
When designing these types of buildings, you always have to think about how many people are going to be in that space. Take the airport terminal, which might have more than 200,000 people using it on some days. With that many people, you need corridors of a certain width, a certain number of toilets, check in counters, gates, runways, and so on. If you don't get one of these right, everything falls apart. Thankfully, we know what works, because these are analog-native solutions that have been iterated on, tried and tested over decades and sometimes centuries. 
But when it comes to the workplace in the digitally native world, engineers and designers are still figuring out what works at scale, and you need to think from first principles to deliver an experience that's new. 
Have we built true digitally native solutions in any other industries?
Yes. Tinder, Airbnb and Uber are examples of great digitally native solutions. They all work by leveraging economies of choice and scale that just cannot be replicated offline. You can't meet 100 people in 10 minutes as you can on Tinder, you'll never have a friend with a spare room in every city, as you can on Airbnb, and you cannot connect to every taxi driver within a mile radius as you can on Uber. These are all entirely new possibilities enabled by the digital paradigm, rather than skeuomorphic digital solutions to an analog problem. 
And how does this compare to Qatalog and work software?
When you look at work software today, most are first order solutions to collaborating online, addressing a single use case. Notion for documentation, Asana for task management, Slack for messaging, and so on. This generation of software does not understand who each person is in a chat, document or file. It doesn't know which teams they're on, what projects they're part of, or what their objectives are. Nor does it have any metadata meaningful enough to automate lots of the manual work around their jobs.
At Qatalog, we've rebuilt the organization itself, along with its people, its teams, and projects, and made it digitally native, whilst allowing information to flow naturally between these entities. This allows it to understand intentions, objectives, and org-charts, and it has the necessary metadata to automate a lot of the grunt work. 
Taking a step back, how did you go from being an architect to a founder of a software company?
Software was actually my first passion. I was born in India and started coding when I was around six years old. We later moved to Saudi Arabia for my father's work, which led me to start my first business when I was twelve. He was a photocopier salesman who sold computers on the side and I would talk to his clients about their computer problems and build them software for managing databases with Microsoft Access. 
My second business came a bit later, when I was around 17. By this point I had moved back to India to focus more on my education. It was a software consultancy that advised on complex system design, covering everything from large-scale booking systems, websites to building bespoke technical software. That was when I first started to think seriously about how to build software for scale, and it also gave me a taste for business.
Given all of that, what made you decide to study architecture?
People ask me this a lot. While I loved coding and computer science, I had taught myself so much outside of formal education, and I knew that would continue without a formal setup. Architecture was a brand new challenge that combined lots of the engineering and design problems that I love about computer science. It also gave me a new creative outlet for my interest in software.
In those days it was also quite rare to design buildings using software and by the time I graduated I had won two national architecture awards. All of this helped to open doors that would normally have been closed to someone of my age. That was how I landed my role with Charles Correa, who is credited with the creation of modern architecture in post-independence India. He was my mentor, and we worked on some iconic projects all over the world, such as the Champalimaud Center in Lisbon, the Ismaili Center in Toronto, the Mahindra Research Valley in Chennai and a bunch of other projects.
And so why didn't you continue on that career path?
I had never really moved away from software, and I found myself wanting to focus more of my time on it. It takes years for blueprints to become a building, and there's something magical about writing lines of code and seeing the result in a matter of seconds. I was still doing some software consultancy on the side so, when one of my clients asked me to come to Oxford (UK) and work on projects to find new IP applications for NASA, I made the leap.
What came next?
In 2014, I joined Transferwise (now Wise), leading the Product & Engineering teams responsible for driving new users. I eventually got on Amazon's radar and they invited me to work on similar projects, but on a global scale. I worked on projects spanning Prime, Prime Video, Alexa and Twitch with hundreds of colleagues in teams stretched across 32 different floors and 17 different countries. 
Work was about as disjointed as it could get. The Alexa organization alone was around 8,000 people, with all kinds of dependencies on the Video organization of another 4,000 people. I started to notice valuable nodes sticking out between the two teams that would fail to connect. Despite Amazon's incredible documentation culture, there was nothing that could bring everything, from internal wikis, to messages, teams, initiatives, together in one place. 
And this was when the idea for Qatalog was planted?
Yes. Everywhere you looked, there was the same fundamental flaw in the modern workplace. The design was messy, the system was breaking, there were huge inconsistencies from team to team. A lot of these costs were paid by employing more humans, incurring more manual effort to make it all work together. Work was not working, and the architect in me was screaming. This was a valuable ergonomic problem, and there had to be a systemic solution. That's when I saw the potential to create something that tied all of this together into a single source of truth. The day after I got my permanent residency in the UK in 2019, I left Amazon to start Qatalog.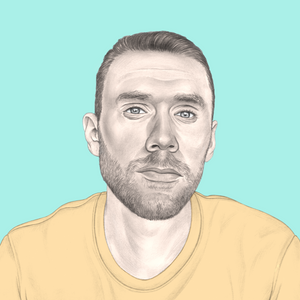 WRITTEN BY
Communications Lead @ Qatalog
Sam Ferris leads on all things communications and helps to tell the story of Qatalog and its customers.