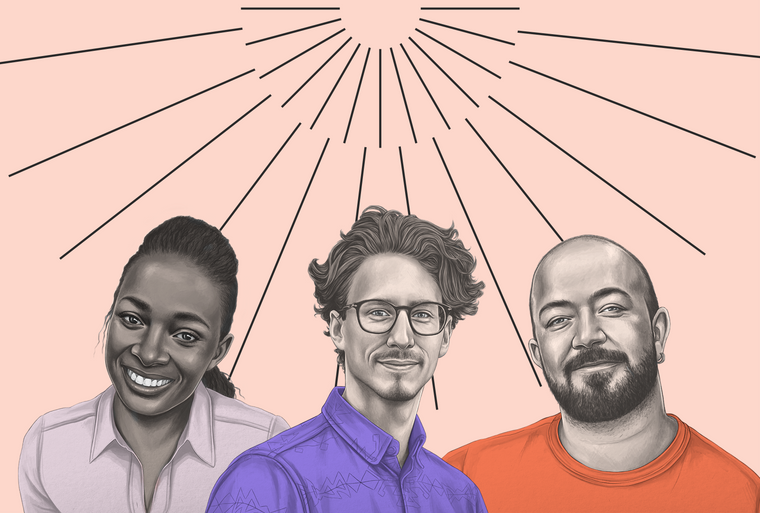 More posts
Are your team updates getting lost in endless noise? These five tips will help your teams communicate clearly and share updates effectively.
Silos harm productivity and discourage teams from collaborating effectively. Here's how to eliminate them.
Siobhan McKeown explains why processes are the foundations for creativity and how to get them right.
Putting trust back into teamwork
Cue the opening credits and intro music because the battle between remote and office work continues. Hybrid hasn't been the solve-all solution we were hoping for. And as workers remain scattered between offices, co-working spaces, homes, and coffee shops, our research reveals how distributed work is eroding trust and visibility for knowledge workers everywhere. 
What are my colleagues up to and can I trust them?
Qatalog conducted a study of 2,000 knowledge workers in the US and UK and found that when working remotely, two-thirds (66%) of survey respondents reported that they lack visibility of what their colleagues and leaders are working on. Less than a third (28%) of the workforce feel that their positive contributions at work are regularly recognized, and one in ten say that their positive contributions are ignored altogether. 
The negative impacts of silos are easy to spot. For one, they inhibit sharing and collaborating across teams. With hybrid workplaces, any issues with visibility can make work very challenging. 
And perhaps we just haven't discovered the right kind of infrastructure to support transparency in a hybrid org. After nearly two years of remote work, 40% say they still find it hard to manage work across distributed teams. About a third (34%) say their employer has either not invested, or has not adequately invested, in the tools and policies needed to support remote or flexible work. 
Trust and visibility impact the workplace by allowing your employees and coworkers to collaborate effectively. It's hard to imagine a workplace without them, yet so many of us are operating in silos because we don't have the infrastructure to give us the visibility we need to better trust one another. 
Visibility is critical for employees to trust each other. Otherwise, how do they know they can be relied upon and are working on the right things? Without it, you are left with a culture of suspicion and mistrust.
Read more: The importance of trust, flexibility and focus in the workplace.
Who can I trust? 
Mix that with a lack of trust, and you've created a work environment that eliminates most of what keeps workers happy and productive. 
The strongest argument for going back to the office is that having in-person relationships with your coworkers improves relationships. Trust gained through in-person interactions is highly valuable to the workplace because it gives you a well-rounded view of who they are and how they work. It's no wonder, then, that 63% of workers from our survey believe it's harder to build trust with their colleagues in a remote environment.
The world of work today is vastly different from just a few people in the office, which means we need to rethink how we build trust within our teams. 
Yes, building remote relationships is harder. But the majority of knowledge workers (75%) want to remain working with flexibility. So there have to be ways of facilitating visibility and enhancing trust within a distributed workplace that works for everybody. And if this is going to be the new norm, we can't always rely on in-person interactions to inspire team collaboration.
Speaking of everybody, it's also worth commenting on the gap between executives and non-executives in the return-to-office debate. We found that 37% say a full-time return to the office is in the interests of their bosses, but only 2% say it's in their own interests. 37% say a return to the office is in nobody's best interest.
So now we've presented the problem: knowledge workers are lacking visibility and trust in the workplace but want to remain flexible. 
How can you solve this within your own company? If only we had a handy-dandy listicle with actionable ideas for you to implement. Oh wait, here it is!
Bring trust and visibility back into your hybrid workplace
1. Establish a culture of documentation
If you have a context problem, the first solution is documentation. The second part to this is making sure everything you're documenting is well organized and accessible to your entire organization. 
Documentation gives your teams context. That's the information you need to understand how your work fits into the bigger picture. Context is the reason why you initiated the project, how it relates to the team goals, who's working on it, and more.
The best part about documentation is that it's repeatable. Once you've created a process for documenting your projects and goals, it makes it that much easier to recreate the same process for the next project. 
If visibility issues are still happening within a culture of documentation, ask your employees where their frustrations with visibility stem from. Maybe your team is having a hard time accessing specific tools or documents due to permission settings. Maybe the answer is as simple as not knowing who to go to with questions, or not having clear role clarity to enforce team structure and recognition gaps. 
2. Reset your technology
Let's revisit an earlier statistic. 
About a third (34%) say their employer has either not invested, or has not adequately invested, in the tools and policies needed to support remote or flexible work. 
This isn't to say that your company hasn't invested in tools. The average company uses 137 unique Saas apps, which is a 30% increase from 2018. The problem here is that none of these tools were specifically designed to allow for coordination across platforms and teams. 
Resetting your technology doesn't mean doing away with your existing tools and moving to ones specifically designed for a hybrid workspace. Those tools won't work for you either unless you have the structure in place to utilize your tools in a way that benefits your entire team. 
We like to think of work like an open book test. If your tools aren't allowing your team to go find the answers on their own, you have an issue.
Your virtual tools are just that — tools. Meaning that you need a place to keep them to minimize disorganization, like a tool box. 
That tool box looks a lot like a connectivity layer that allows you to coordinate team activity.  
3. Make goals accessible to everyone. 
Professional trust is more than the belief that a team member is reliable; it's a mutual confidence that is earned through a relationship of faith in individual expertise or potential ability being reinforced with consistently-fulfilled expectations.
To build a track record that earns trust, teams need a reliable management structure that confirms your team is working effectively even when you can't see them. 
Carefully creating this structure with trust and autonomy in mind is also critical, because nobody likes to be micromanaged. That's why incorporating visible, accessible team and personal goals is so important to the success of your team. Not only will you be able to showcase an individual contributor's work, but you can easily track the progress of every team member. 
Working context-first implies that trust and visibility are built into your day-to-day. By providing your team with context, you allow them to operate independently with everything they could need to be productive. Our work hub gives teams a simple way to coordinate work and add context.
WRITTEN BY
Contributor
Isabelle is an actress slash content marketer, passionate about storytelling.