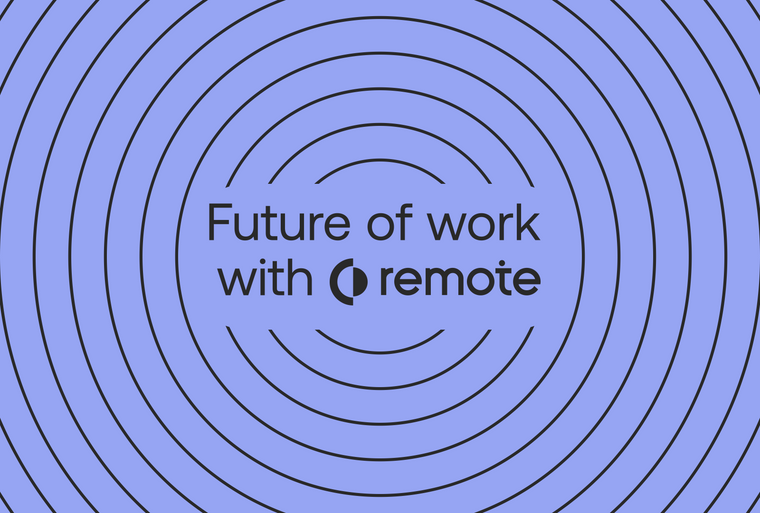 More posts
Businesses are sitting on mountains of valuable data and knowledge that's waiting to be unlocked.
Artificial intelligence will transform the way knowledge work is done. Here we discuss six key skills that will be valuable in an AI powered world.
Job van der Voort on building strong connections remotely
Our Future of Work series was developed so that we could learn from business leaders who have opted-in to the new ways of work. We got to speak with Job van der Voort, CEO of Remote, who encourages companies to fully embrace the differences that a remote working model brings and to implement those differences within your culture. 
Since Remote is remote-first, are there any challenges your team faces that you're also trying to solve for customers?
We try to lead by example on the remote-first practices that make life easier. Asynchronous work is probably the most important thing. We practice a culture of documentation, so we keep everything publicly accessible when possible. That means communicating in public Slack channels instead of in DMs, building documents for new processes and discussions, and pointing to documentation instead of answering questions in messages. The more people lean into the documentation, the easier it is for people across multiple time zones to get the information they need to do their work.
When did you start working remotely, and what are your favorite parts about it?
I started working remotely six years ago when I joined GitLab as one of the first employees, a web-based DevOps platform. I helped to grow the company from five to 450 people. The unique thing was that all of us worked remotely across 45 different countries. Yet, after five years of working at GitLab, I couldn't find one platform that could facilitate local laws, benefits, banking, and local payroll. It was hard to hire talented workers remotely on a global scale, and that's why I left to create Remote. That's exactly the challenge Remote provides a solution for.
Remote work hugely benefits not only the business but also everyone on a personal level. The remote working model means that you are able to hire the best talent despite where a person is based. For the employee, it means having more time to spend at home, less time commuting, and the choice to live anywhere in the world. It means employees no longer have to make a sacrificial choice between their career and their personal development, hobbies, and family
What "future of work" trends/topics are you following?
The redistribution of talent is a big one. Our research found that 71% of workers would consider moving to another country if they could do so without sacrificing their career in the process. Remote helps employers continue to employ people when they move to other countries, so we want to ensure businesses understand they need to be ready for more employee relocation. 
We also use VR headsets for team bonding and some collaboration. Everyone at Remote receives an Oculus Quest 2. So we're exploring new ways to connect around the world.
What is the biggest challenge for you or your team right now? 
Some may argue that "water cooler conversations" are hard to replace when working remotely, but I would say that as long as your company makes a conscious effort to employ methods of social connection and wellbeing, that's not lost at all. In fact, we find that working remotely can improve an employee's wellbeing because they spend less time commuting and less time away from their families, so in fact they tend to be happier at work.
Building strong connections between our team has been a key focus at Remote. Our team actually operates on the fundamental value of kindness. Starting with the initial hiring process, we ensure that each member of our team embodies this virtue, as without kindness at the core, remote workforces suffer. We assume the best of our colleagues and trust them to get their work done and do it well, and we know they do so, because our culture of documentation leads us to catalog our work and communicate constantly.
To foster more connections and collaboration among our teammates, we recently changed our meeting structure to schedule at least one bonding call a day for people in different time zones. We also have one all-hands meeting per week, which alternates between two meeting slots to make it easier for more people to attend. Without the benefits of in-person communication, these initiatives have been essential to upholding our structure as a team, and addressing instinctual, human needs for connection, clarity, and creativity.
What is your collaboration tool stack?
It's incredibly important for a business to invest in the tools necessary for teams to be able to work efficiently when remote. At Remote, we make clear recommendations to the team on the tools they should be using, which you can see on our website. These tools help us to connect with clients (Zoom), keep in communication with the team (Slack), collaborate between teams (GitLab, GitHub, Miro, Invision), store all documents and assets (Notion, Dropbox, G-Drive). We even have a tool that runs a weekly watercooler trivia.
I read this piece on building belonging for women in remote work - how do you think Remote's transparency around a commitment to equality is helping to shape the workplace for women? 
Transparency is important, but action is better. Remote is one of the unfortunately rare companies in tech that employs just as many women as it does men. Our excellent People team is working on several great projects to ensure everyone at Remote feels like they belong here, and that extends to equality in compensation as well, across not only gender but also location. We never fill a position until we have received applications from and interviewed people from a variety of backgrounds. When you commit to doing that from the very beginning of the hiring process, you are able to build an organization where belonging for everyone is possible. But you still have to continue to do the work on transparency and belonging once you hire the people.
And finally, what does work/life balance mean to you?
I believe everyone should be able to enjoy a good work-life balance and work for a good salary, no matter where they live. Working remotely made those things possible for me, and now I want to help others enjoy the same benefits.
WRITTEN BY
Contributor
Isabelle is an actress slash content marketer, passionate about storytelling.