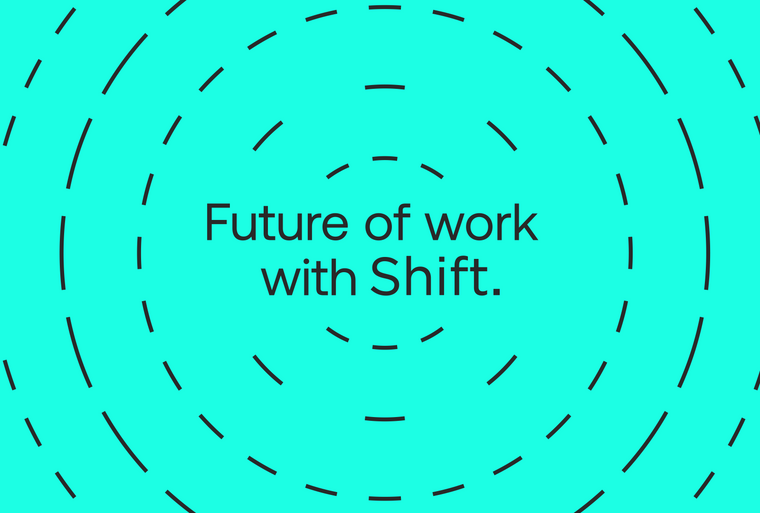 More posts
Businesses are sitting on mountains of valuable data and knowledge that's waiting to be unlocked.
Artificial intelligence will transform the way knowledge work is done. Here we discuss six key skills that will be valuable in an AI powered world.
Jen Leary on remote friction points
In our Future of Work series, we speak with influential business leaders to learn about new ways of work. We spoke with Jennifer Leary, Head of Revenue Enablement at the French insurtech unicorn Shift Technology, about her onboarding experience during the pandemic and how organizational culture impacts everyone's day-to-day. 
How would you describe the organizational culture at Shift? 
Shift is based in Paris and in my general observation — albeit early having been there just shy of one year — is that there is a slightly different culture around remote work than in the US, particularly in high-growth or tech companies. More urgency to get back to the office and less familiarity with remote work and hybrid schedules has been more of the norm at HQ versus in other parts of the world, particularly in the US. As of today, we are planning to have a hybrid structure moving forward and that seems to be working well. 
You joined Shift during the pandemic, how was your onboarding experience? 
Excellent. I intentionally joined a company where I would be "the remote office" (I am in Boston) and wasn't sure what to expect. Having run onboarding myself in the past, I was super impressed to see the international FedEx arrive (on time) with Shift swag (mug, notebook, etc.), my laptop with instructions, and a schedule for Shift Academy — our corporate onboarding scheduled for the following week. All for an org that at the time has fewer than 300 employees and a tiny HR staff. 
What are some of the biggest friction points in working across remote teams?
I would say the number one experience that is challenging to replicate in remote teams is the interpersonal exchanges that happen outside of regularly scheduled meetings: hallway chats, grabbing coffee, walking to your car/public transit — for that matter running into someone during public transit to or from the office. Even in business interactions, this is where some of the best personal connections are made and problems are solved. No matter how many Zoom cocktail hours an organization sponsors, I've yet to see it replicate this same experience. And in my work in start-ups, an effort to schedule a coffee break in between meetings is tough given the typical workload and meeting schedule. 
What "future of work" topics are you paying close attention to? 
Return to office, flexible schedules (aka the four-day workweek), data on productivity pre/post-pandemic, and real estate and commercial construction (where and for who). As managers and employees, we're in a unique time where the job market, particularly in the US, is very strong and candidates have choices. Remote work and flexibility on location are considered key competitive differentiators so organizations need to be prudent when making decisions around work preferences, carefully weighing the pros and cons for the employee and what makes the most financial sense for the business. 
It's really interesting being part of the leadership team at Shift where different countries present and support different work styles. Having direct reports in both France and the US during this unique time in history is providing me with the opportunity to observe cultural needs when it comes to working styles and that will have an overall positive impact on how I think about teams and organizational management in the future. 
How do you think companies can set themselves up for success? 
Have the right teams, process, tools, and content to support hybrid teams. One without the others results in a suboptimal experience for the employee and the organization overall. Invest in the best tools that integrate into your core systems to keep your tech spend manageable, and have the right people to run point on those tools. Make sure to drive effective content and programming that results in high adoption, efficiency, and ultimately higher return on investment.
What is the biggest learning that has come out of remote work for your teams? Personally?
I'm amazed at the relationships I have formed with my team and colleagues at a personal level without ever having actually met them in person. I'm sure you're hearing this from a lot of your interviewees, but it really amazes me how the power of the human spirit really can overcome adversity, and how a rising tide really does lift all boats! There is a lot that goes into that of course, but in general, my two huge appreciations during this time have been the power and resilience of people to connect and work together towards a goal, and the incredible speed and ingenuity behind the technology catalyzing hybrid work. 
What do you think work will look like a year from now? 
I think it depends on where you are globally and what your role is. I think in the end, fully remote organizations will have advantages/disadvantages (e.g. risk of overworking/burnout) as well but it will be interesting to see how things shift and the results that organizations face if we move to remote and/or hybrid environments as standardization of work. I think we will see more of what we have seen during the pandemic — preference for remote/hybrid work options and employers promoting it as a benefit to recruit and retain top talent. 
What tools has your team used to increase collaboration and streamline distributed communication?
Slack, Google Workspace, HighSpot, Brainshark, Zoom, MSFT Teams 
What does work-life balance mean to you?
Work-life balance means I am invested in both my professional and personal priorities and understand when one is out of balance and take action to self-correct. I personally don't think that is on the employer but on the employee and their personal outlook, position in life, etc. to set the right boundaries and stick to them. I've been fortunate always in my career to work for organizations that have respected requests for unique working models, for both myself and the teams that I have managed. At the end of the day, good hires are producing, driving impact, and getting results. How, where, and when they do it is secondary.
WRITTEN BY
Head of Revenue Enablement at Shift Technology