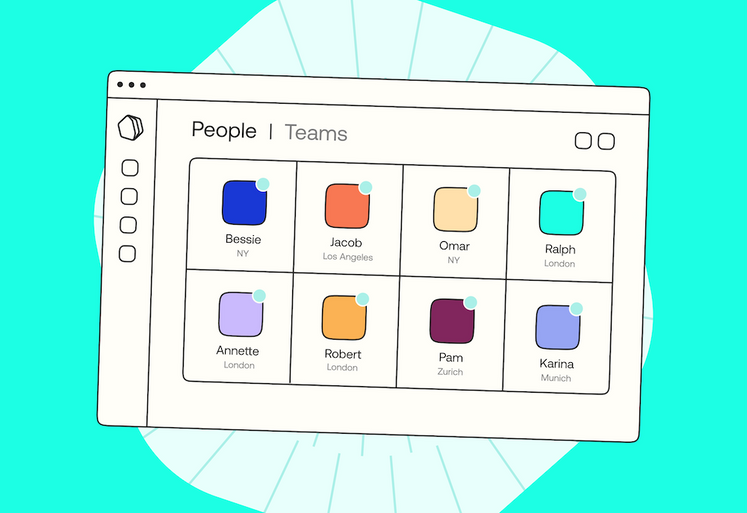 More posts
Generative AI has increased the interest in enterprise search. We assess the different technologies.
Businesses deploying AI need to be aware of the risks, including data-security and regulatory compliance. Here's how to navigate them.
Software often forces teams into unwanted ways of communicating, collaborating, and organizing tasks. But it doesn't have to.
Why a work hub beats out the functionalities of a static employee directory
Think about the last time you didn't know who to go to for a question. Maybe it was something simple or a detailed process question only one person could answer. Perhaps you had to go through multiple channels to find your answer, which took way more time than finding the solution to your problem. 
Gaps in communication and knowledge-sharing are quickly exposed within a remote setting. Most teams resort to endless Slack messages or emails to find information that should be common knowledge. 
These are problems an employee directory could fix.
What is an employee directory?
An employee directory allows you to look up the names, contact information, and roles of the people within your organization. An employee directory should connect your staff and answer initial questions of who they are and what they do. Typically, the search functions of a directory stop there.
Why most static employee directories just don't cut it
When you start an office-based job, you meet everyone on your team during the first few days in meetings, at lunch, or simply by starting a conversation in an open-plan environment.
In a remote or hybrid setting, things are different. You need to be intentional about onboarding and relationship-building.
When you build your employee directory, you'll have a central hub where anyone can find information about their colleagues. It'll act as a virtual water cooler for your distributed team. People can head to the directory to see what others are working on, where they're located, maybe even a small bio about themselves. Unfortunately, most employee directories like these end up being an afterthought. It'll be a spreadsheet buried in your Box or Google Drive, updated once or twice per year by management or HR.
→ See how you can craft an employee profile with Qatalog.
Common issues that arise with employee directories
Directories are detached from day-to-day projects
Organizations often host their employee directories on a standalone platform in their team's toolset. You might use a specific employee directory, while some still use a spreadsheet.
The problem? It's disconnected from everything else in the company.
But consider this: if your team doesn't know what everyone is spending their time on, or who's working on what, they'll be emailing or messaging multiple people whenever they need a specific piece of information. Over a whole week, that adds up quickly.
Employee directories are only useful for HR or upper management
Over time, an employee directory might evolve into a large unwieldy spreadsheet, managed by HR. And there's no reason for anyone to refer to this list unless management needs to check boring details like someone's current address or salary.
On the other hand, if your employee directory contains personal information, like people's interests and hobbies, it becomes somewhere your team wants to check.
Your directory will act as a bridge between distributed teams, helping them build closer relationships with their colleagues. It'll serve as a way to start casual conversations that remote teams often miss.
Benefits of a work hub vs. a stand-alone employee directory
1. A work hub adds context
If you have the ability to see that someone is working on a big project due in the next few days, they may not be the best person to ping about a trivial question.
One significant benefit of a work hub is that it adds context to your employee directory. By connecting with apps (think Asana, Dropbox, GitLab, and Teams) a glance at your directory will show you precisely what projects everyone is working on.
2. Work hubs foster connectivity
Without regular in-person lunches or coffee breaks, it can be hard to cultivate good relationships within a distributed team. Without intentional team-building, everyone can be familiar with who everyone is, yet no one really knows each other.
The benefits of having a connected team are far-reaching Companies that focus on culture have team members that are 80% more likely to report higher emotional well-being. Encouraging strong interpersonal relationships contributes to building a culture of togetherness and connectivity.
By building your employee directory in a work hub, everyone can share extra information about themselves and what they're up to. Knowing that a team member shares your similar interests, or is binge-watching a show you also love, can be the start to conversations that would otherwise never happen.
3. Work hubs improve visibility and information sharing
The average mid-market company uses 185 apps to manage their work. You can connect them all with a work hub. 
Instead of turning to Slack to alert your manager of a completed task, a work hub automates that process for you — providing real-time activity notifications of what people are working on. Need to find a deck that you made months ago for a paused project? Search all your apps at once — without having to flip through different tabs. 
If anyone needs information about a team member or project, it's only a few clicks away.
Recap: Use a work hub as your connected employee directory
Keep everyone connected and more aligned with a work hub. It's the ideal solution to your employee directory needs, for a few reasons:
A work hub connects your directory with every app your team uses. Make your directory work in sync with every other tool you use. It'll be more actionable and will become a useful asset to everyone at the company.
It boosts rapport on distributed teams. Building strong teams is hard if you're not in the same office. With a work hub, your team can quickly check the directory and learn all about their colleagues to find people with similar interests and hobbies.
A work hub provides visibility into everyone's work. A glance at your directory will give you clarity into every individual's priority projects, tasks, and goals for the week, month, quarter, or year.
A work hub improves cross-department collaboration and adoption. A work hub acts as a single place to connect everything your team is working on. If you create new standardized processes, you can quickly ensure everyone relevant knows about them.
WRITTEN BY
Contributor
Isabelle is an actress slash content marketer, passionate about storytelling.