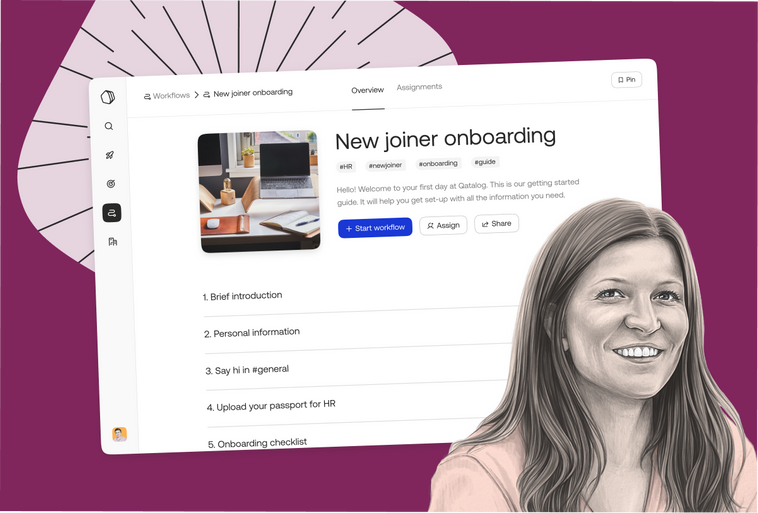 More posts
Here's what we've launched or updated in Qatalog in the past month.
Here's what we've launched or updated in Qatalog in the past month.
Here's what we've launched or updated in Qatalog in the past month.
How to create a seamless onboarding experience
Onboarding is critical, but the experience for the employee is often mediocre at best, and there's a lot to remember for the person responsible.
In previous roles, I would often see people turn up on their first day and spend hours sifting through employee handbooks, which were almost always out of date, or mindlessly scrolling through Google Docs containing endless onboarding task lists. Each day they would go and meet with various people from across the business, who had very rarely spent much time thinking about what they should say. 
Then there's the huge checklist of other critical tasks that HR teams and hiring managers have to do before someone even starts, all of which can be unbelievably time-consuming. This includes things like payroll, contracts, tech equipment, compliance, and more. 
Now, in the era of remote work, the stakes are higher. Companies need to be much more intentional to get the employee experience right, as they can no longer rely on the office as a failsafe. You can't simply turn to a colleague and ask them to quickly explain something. Nor can you take a quick tour of the office and introduce yourself to various teams or departments and have a quick chat, to get a sense of who does what. On top of that, you now have the logistical challenges of getting all of the equipment they need to work from home effectively. 
For companies that are growing quickly and hiring constantly, this can quickly become a problem if it's not managed correctly, and crucial things can be missed. Online onboarding tools and standalone workflow software are sometimes touted as potential solutions, but they come at steep additional costs and sit separately from the rest of a company's work and processes.  
Since joining Qatalog almost two years ago, I've used our own Workflows feature to onboard new joiners, which allows you to build customized, repeatable processes, and automates large parts of them too. This has already saved me hundreds of hours and ensures that nothing falls through the cracks. And for the new joiner, what used to take them a couple of weeks is all sorted in an afternoon, meaning they can get started much faster.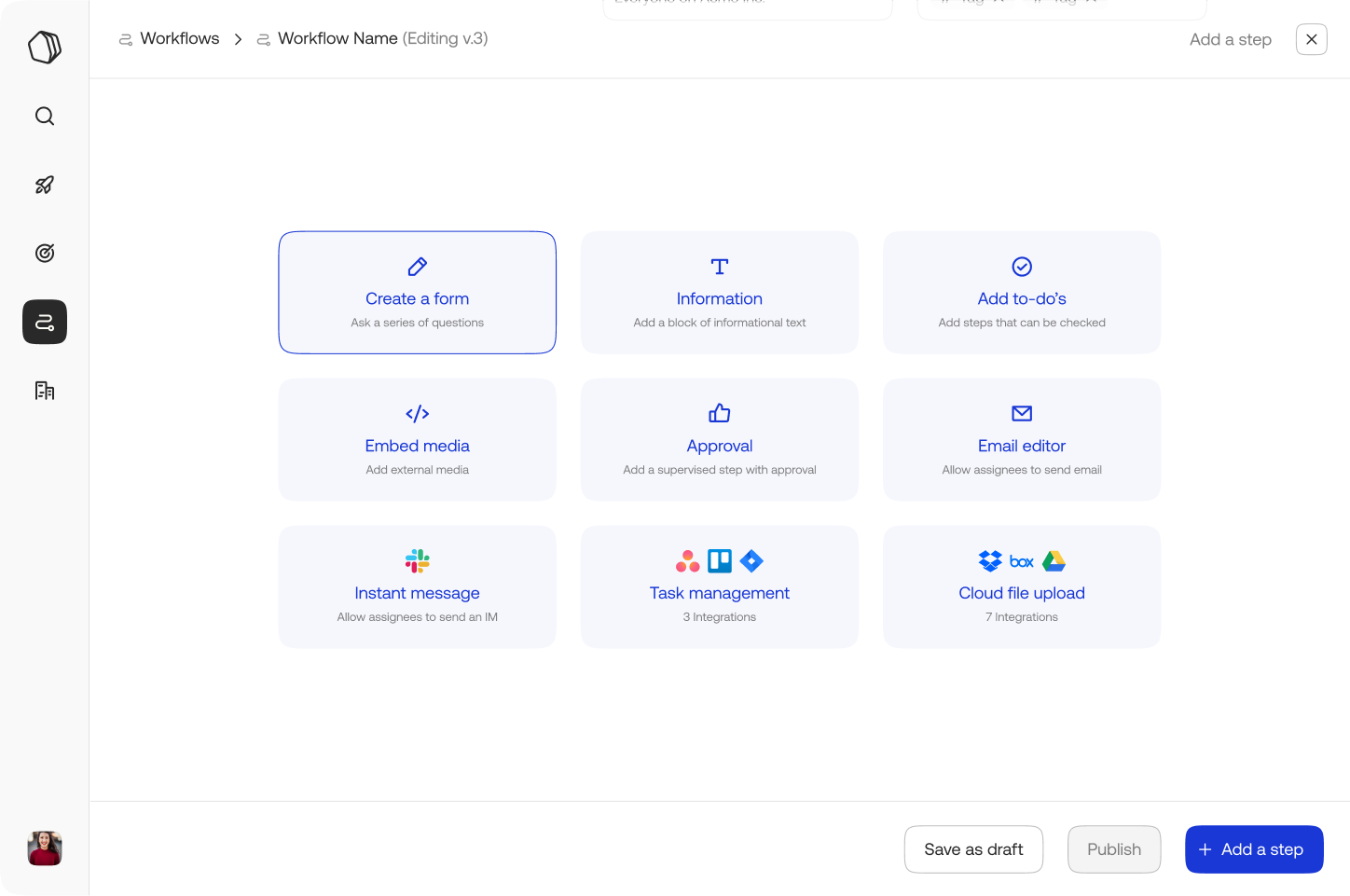 Here are my five tips for successful onboarding using Qatalog: 
1. Provide access to vital tools from day-one
There's nothing worse than starting a new role but being unable to access crucial information because you don't have a log-in and then having to chase five different people to give you access. To make sure everyone can hit the ground running, we created a Workflow with steps that include the invite links from each of the core tools each team needs. Whenever we have a new joiner, one of the admins selects the relevant Workflow, and goes through the steps to invite them to each of the tools. It takes about fifteen minutes in total, and it means they are set up with everything they need from day one. 
2. Never forget security and compliance training again
It's no one's idea of fun, but making sure new joiners are quickly made aware of security procedures and policies is critical. We've made this part of our onboarding Workflow, meaning all new joiners will automatically be assigned relevant training to complete, such as GDPR rules and data security. Because it forms part of our standard onboarding Workflow, it's literally impossible for us to forget it.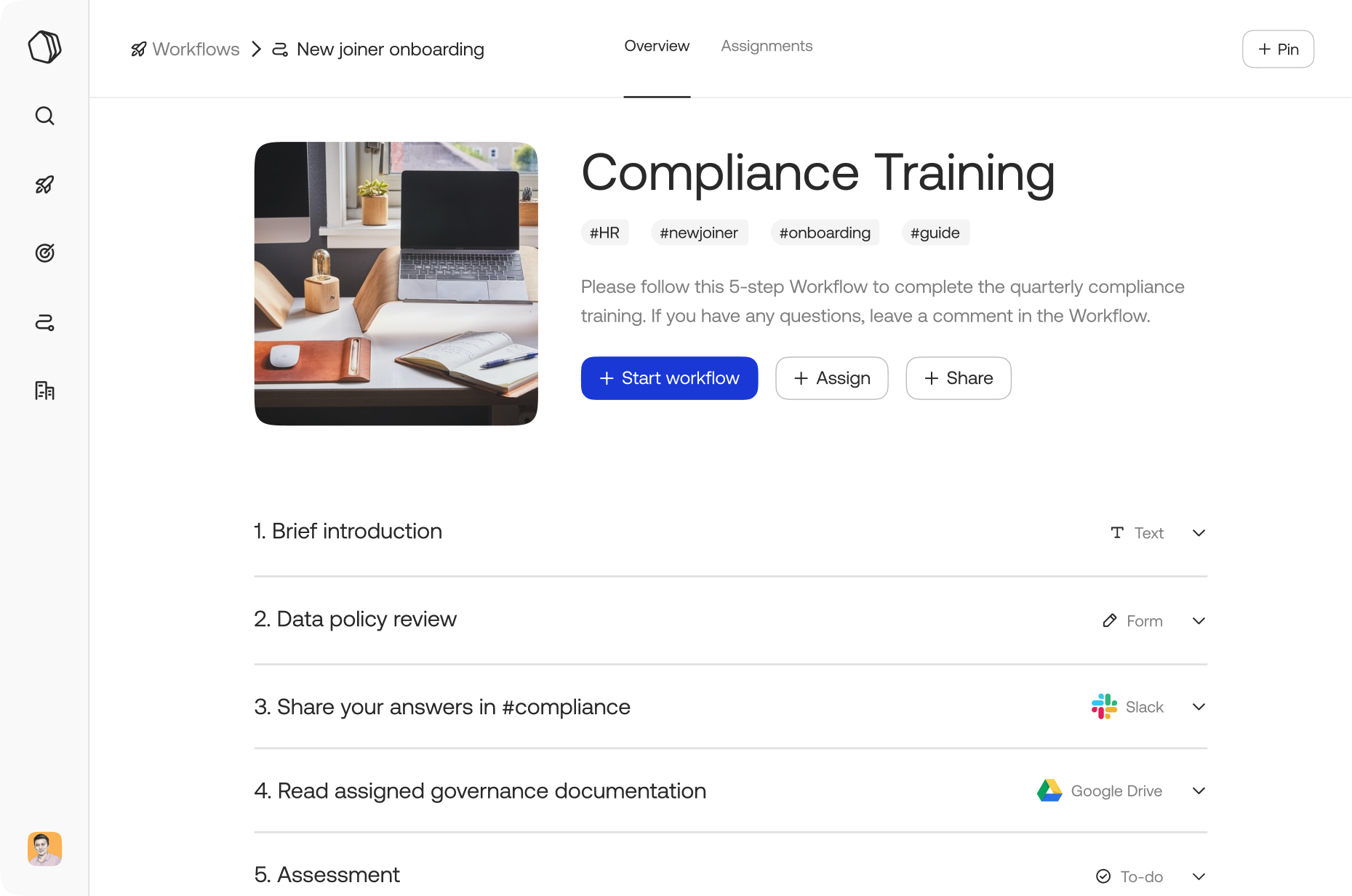 3. Automate WFH equipment requests
As a remote-first company, we provide a budget for all new employees to improve their work-from-home setup. We still wanted to manage the process centrally, but we knew it had the potential to be quite time-consuming for all involved. To streamline it, we added a step to our standard onboarding Workflow that allows new joiners to submit links (e.g from Amazon) for the pieces of equipment they want, along with any notes or explanations. We then review it and, once it's been approved, they get a notification to say that it's on its way. Job done. 
4. Get up to speed in record time
There's often a lot to take in whenever you start a new job with a barrage of information in the form of presentations and webinars. Qatalog allows everyone to do this on their own schedule. Our onboarding Workflow points everyone to our 'Company' section, which every Qatalog user will have. As the name suggests, the Company section is where you can store key information about your company; things like values or tenets, benefits, and policies, useful articles, as well as information you might need day-to-day, like the WiFi password for the office.
All of this is clearly important, but it can still feel detached from the actual work that people do. What is particularly unique about Qatalog is that it allows every user to seamlessly navigate around the company, looking at different teams and their members, projects, tasks, processes, and key resources. This quickly gives people context on who is who, what they have been working on, why certain decisions have been made, and what objectives everyone is working towards. 
In many ways, it's like being able to walk around the office and have a chat with everyone while having a rummage through their latest work (unless it's marked as private, of course). Except that with Qatalog, it's on demand whenever you need it, and it's constantly being updated automatically. 
5. Make the fun stuff easy
It's important to remember the little things that ensure people get a warm welcome. But there's always a danger this gets forgotten about when work gets busy. To get to know everyone a little better, we play a game of 'two truths and one lie' with every new joiner on our all-company Zoom calls. To make sure we don't forget (yes you guessed it), we include a step in everyone's onboarding Workflow, where we ask them to submit the three answers. Other things might be getting people to introduce themselves on Slack (the Workflow points them to the right channel), or submitting a photo to create our branded illustrations (again via the Workflow). Essentially, once you've built a process as a Workflow, you can repeat it time and time again without having to think twice, and you can keep tweaking and improving as you go. It really is that easy.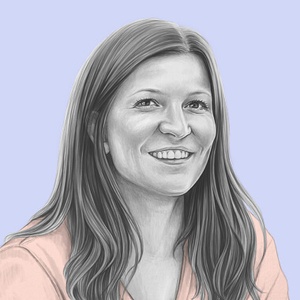 WRITTEN BY
Chief of Staff @ Qatalog
As Chief of Staff, Marta sets the operations strategy and makes sure everything at Qatalog is running smoothly. This means making sure that company knowledge is centralized and visible, routine processes are automated, collaboration is streamlined, and lots more on top. When she's not busy building the future of work, you'll probably find her playing badminton, rock climbing, or giving back to her community