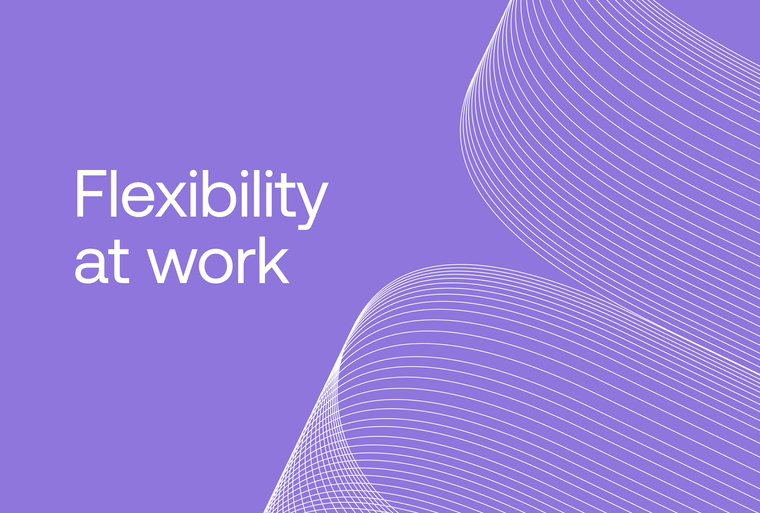 More posts
Businesses are sitting on mountains of valuable data and knowledge that's waiting to be unlocked.
Artificial intelligence will transform the way knowledge work is done. Here we discuss six key skills that will be valuable in an AI powered world.
This is a new era for flexibility at work – and workers know it
The genie is out of the bottle. A new report from Qatalog and GitLab has shown that our attitude and approach to work has changed dramatically, as we have adopted new practices and behaviors that, pre-pandemic would have been almost impossible. Although, as the research reveals, we've still got a long way to go.
Is this a new era?
It may seem hyperbolic to call it a "new era" but, for some, that's exactly how it feels, as their working lives have changed beyond recognition. The daily commute is gone, replaced by a few steps to a workspace at home.
A select few have enjoyed the benefits of flexible hours and remote work for a while now, as some writers, developers, artists, and other similar roles have been able to work from home (or coffee shop) for the mainstay of their working lives. But even in this cohort of job types, most were still required to commute to an office, sit with their headphones on trying not to get distracted for eight hours, and then commute home again.
The pandemic forced nearly every company with desk-bound workers into exactly the same situation. It wasn't just the lucky few any longer. All the old arguments against working remotely - how do I know they're working, how will we do creative work together, how will I manage people, how will I know what people are doing, etc - quickly became irrelevant as offices shut their doors for months, and necessity forced a radical rethink.
What was all the fuss about?
Despite all the fears, work still happened. People talked online, companies didn't fold and money was made. Once workers at home hit their stride and worked out the teething problems, they found they were happier, healthier, and in many cases, more productive.
However, with everyone at home, including partners, flatmates, and kids, getting work done became a bit more of a challenge for some. So, work got done in the windows of time between the demands of our personal lives. Flexible working arrangements started to emerge and the rigidity of the 9-5 slipped away. People started work early or worked late. They worked a few hours on the weekend or took more, or longer breaks to fit real life around work life. 
All at once, our collective eyes were opened that working remotely can and does work, if it's done right. And, much more importantly, we can help make work fit around the things in our lives that are meaningful - our health, families, and friends.
The next big shift is 'when' we work
So, we find ourselves today in a new era of flexibility at work. It isn't hyperbole. It's real and it's right now. A huge, almost overnight, shift to a richer, more fulfilling work/life balance. Over 65% of knowledge workers in the report from Qatalog and GitLab said they now have more flexibility to choose their working hours, compared to before the pandemic. A new era indeed!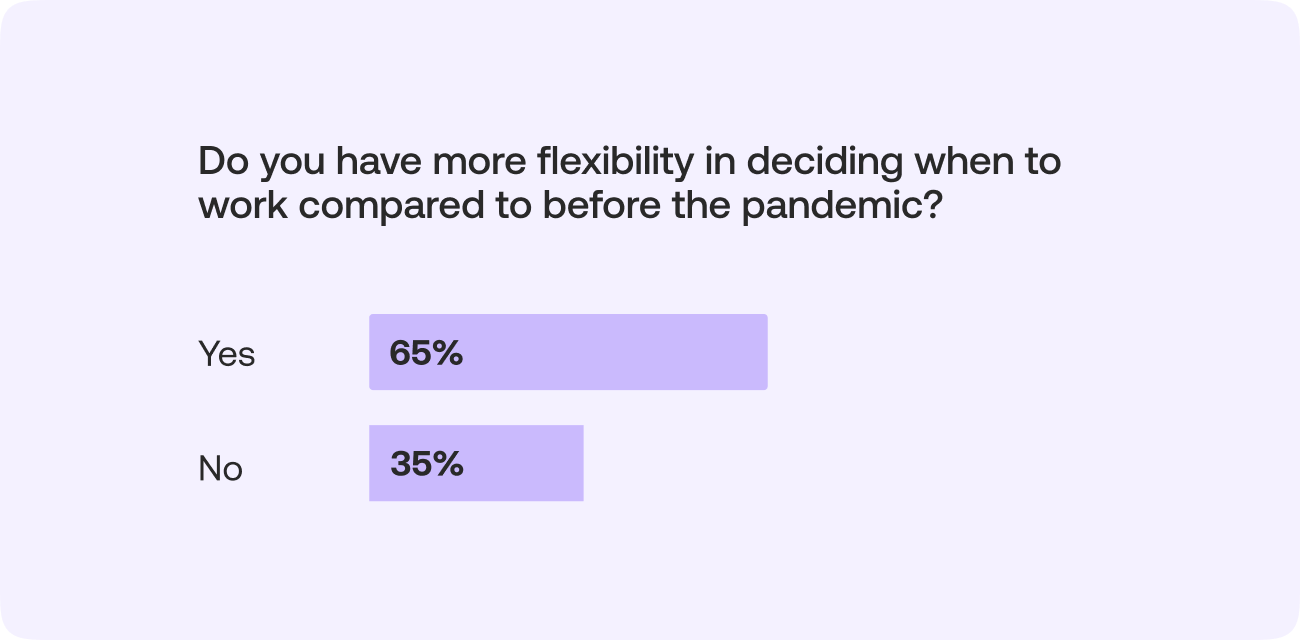 The problem for businesses now though is that as a workforce, we've proved flexibility can work – we've proved the net benefits are greater and now we are going to demand more of it. There is no turning back. Indeed, 49% of knowledge workers said that over the next three years, they expect to have even more flexibility to choose when they work.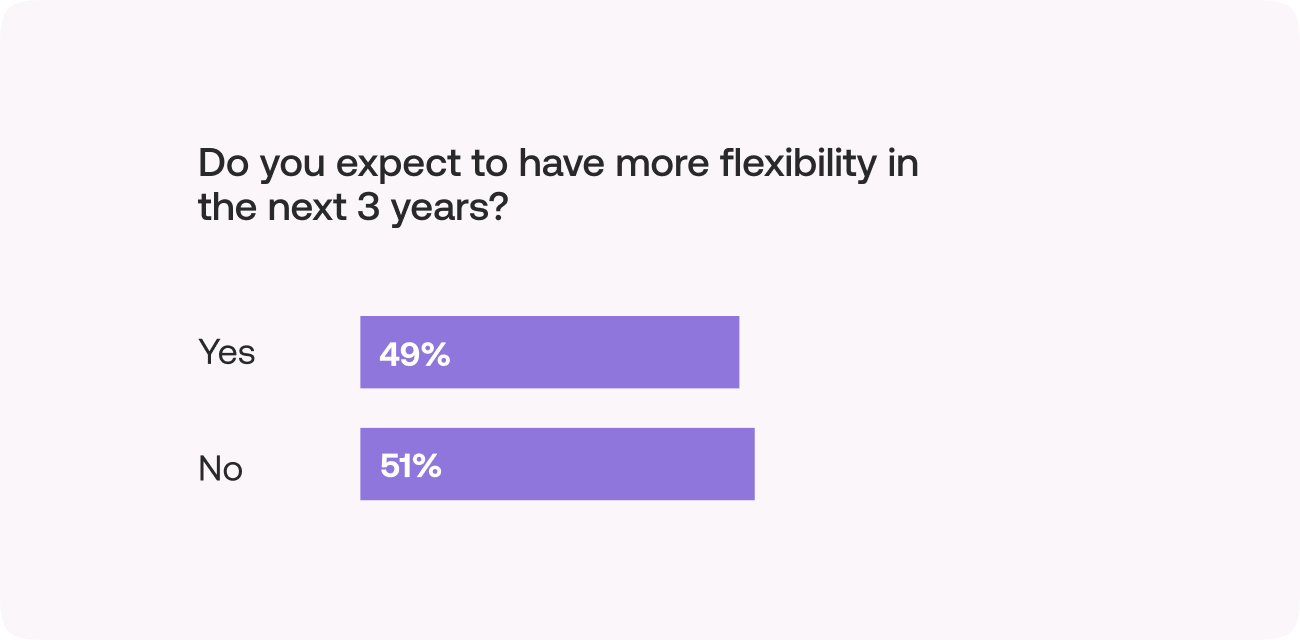 Remote working was the first big shift, focused on where we work, but now we should start to see more businesses having open discussions about flexible work schedules, with a focus on when we work. 
The end of the 9-5?
Up until now, many companies and their employees have fallen into this new way of 'asynchronous' working almost by accident. However, this change needs to be intentional and sustainable. Many of us work in a team, with others dependent on our work, so knowing when we can be contacted or when it is appropriate to book meetings is hugely important. That means companies will need to create clear flexible work guidelines, frameworks for communication, and provide workers with the tools that make asynchronous collaboration possible. 
Perhaps you're an early bird and leap out of bed, brush your teeth and you're off. Perhaps you're the opposite and find your most productive hours are late at night. Perhaps you're neither but really enjoy working out in an empty gym or walking in the park in the morning to come up with new ideas. Perhaps you'd like to spread your work across a 12-hour day, so you can fit in a proper lunch and some time with the kids. 
The point is, for the very first time, many of us have the opportunity to build our work around our lives. In fact, in Qatalog and GitLab's research, 79% of knowledge workers said that increased flexibility over when they work had allowed them to spend more time on hobbies, volunteering, or side-hustles. 
Now that workers have had a taste of flexible work arrangements, they are not going to give it up easily, and forward-thinking employers will recognize this as an opportunity to create happier, more productive employees.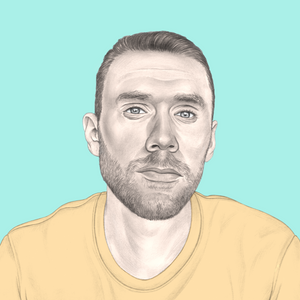 WRITTEN BY
Communications Manager @ Qatalog
Sam Ferris leads on all things communications and helps to tell the story of Qatalog and its customers.